With the acceleration of the pace of our daily life and the rise of the kitchen revolution, automatic cooking device has become the leading role of food processing machine, which is unstoppable.The ordinary big cooking stoves have obviously been unable to keep up with the steps because of the fast pace of food stalls, school canteens, the army. Then we launch the Industrial Automatic Meat Paste Cooking Machine, it can be used to fry the meat and stir-fry sauce, which will free both hands, providing the operators with a more easy working environment.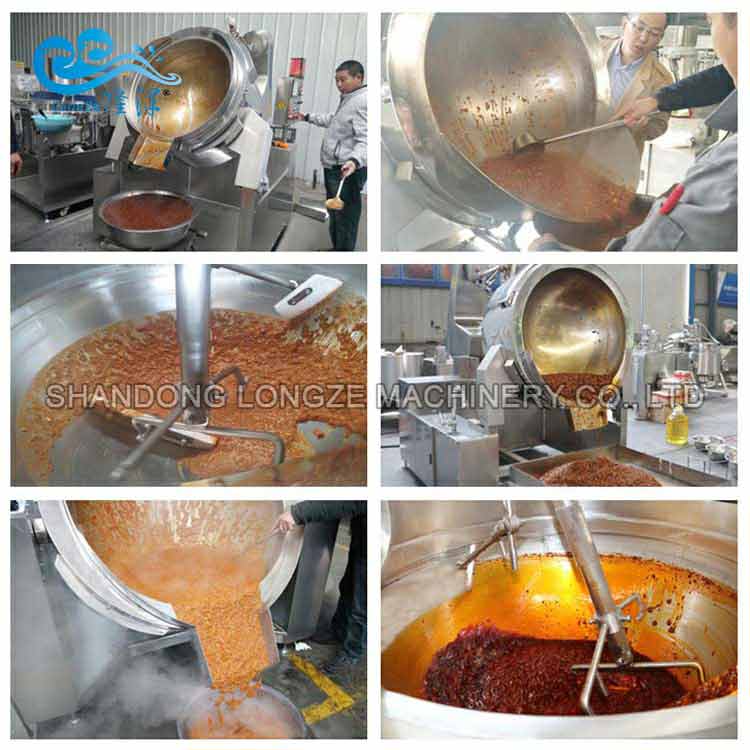 Product Characteristics of Industrial Automatic Meat Paste Cooking Machine:
1.This cooking machine uses 380V electric power as the heat source. It is equipped with electric heating rod, electric thermocouple and heat conducting oil (self-supplied), which can reach up to 320 degrees. It is controlled by electric control box and it is also equipped with automatic temperature control system. It also has the advantages of large heating area, even heating, high thermal efficiency, short liquid boiling time, which makes it easy to control the heating temperature.
2. It is safe and convenient to operate this kind of cooking machine because it is made of acid and heat resistant austenitic stainless steel, equipped with pressure gauge and safety valve or electric control box.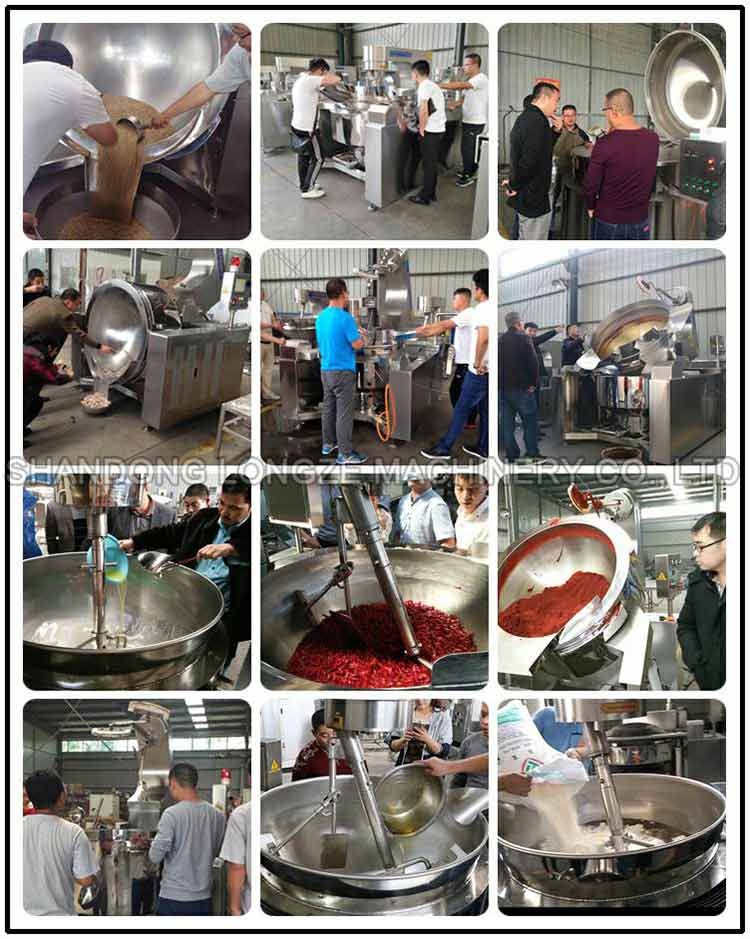 Products of Our Company:
We, Shandong Longze Machinery Co.,Ltd mainly produce the automatic trepang sauce stir frymachine, large mixing pot, electromagnetic frying pan, automatic popcorn machine, electromagnetic popcorn machine assembly line, stainless steel cooking pot, vacuum leaching candied sugar pot,egg production line, amber walnut kernel frying machine, automatic gas cooking machine, square marinating sterilization pot, horizontal transverse mixing pot, tilting type gas boiler, automatic hydraulic lift frying pan, cooking pot, tilting and high pressure boiler, vertical digester, pressure boiling kettle boiling pot, gas pressure natto pot, gas heat conduction oil and high pressure boiler, vertical cooking pot, steam mixing pot, hotpot condiment cooking mixer, automatic fry sauce pan, automatic hydraulic stir fry pan pan, planetary stirring, electromagnetic heating cooking pan frying pan, electric heating, vacuum concentration tank, vacuum boiling pot and colorful bean pot, etc.


Contact Us:
Shandong Longze Machinery Co.,Ltd
Company website:https://www.candyfiremixer.com/
WhatsApp/Wechat:0086 13153609533
Tel:0086 13153609533
E-mail:longzemachinery2@gmail.com
Address:Zhucheng Economic Development Zone, Shandong Province, the first five lines west
Contact:Ms. Rena
If you have any question, please feel free to contact me, I will give you the lowest discount.
Please fill in the form and leave a clear message. We will contact you immediately.