Product Structure:
The Commercial Automatic Sugar Cooking Mixer is another practical products designed and manufactured by my company to meet the production needs of clients from all kinds of food processing industries. It uses high quality stainless steel material, which is stable and durable, and it also has beautiful appearance;It uses gas or liquefied gas as direct fuel, reducing auxiliary equipment, so it is clean and hygienic. This series of cooking machine mainly uses liquefied gas, natural gas as heat source.
There is another bright spot of Commercial Automatic Sugar Cooking Mixer, which is the open flame. The flame size can be adjusted. The heating speed is fast, which improves the efficiency and reduces the production cost. It is especially suitable for the automatic operation of cooking and stewing of materials requiring high temperature, which can effectively save manpower, improve production rate and reduce production cost.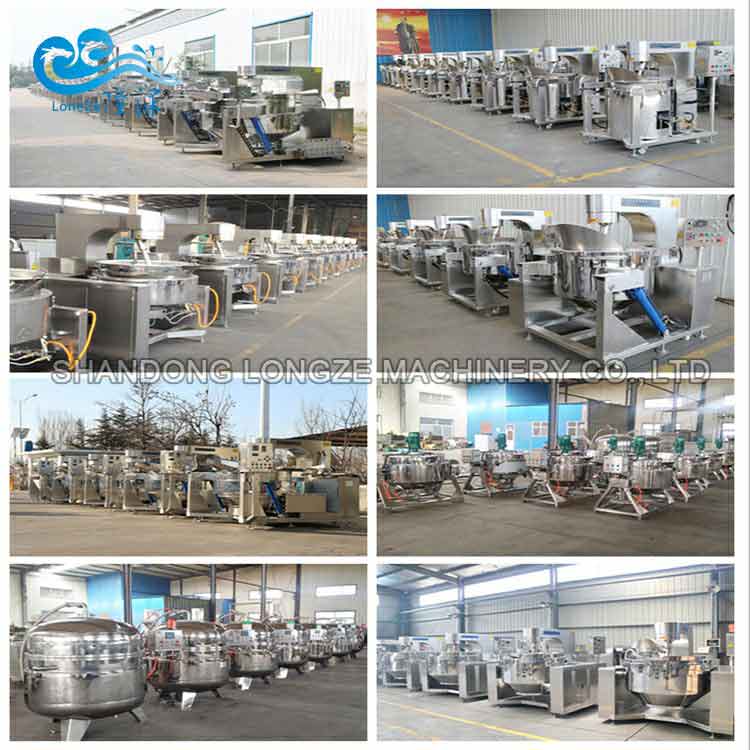 Technical Parameters:
1. Product Name: Commercial Automatic Sugar Cooking Mixer
2. Overall size :1700*1500*1200
3. Motor power: 1.5KW
4. Machine weight: about 300kg
5. Production capacity: about 15-20kg(take peach kernel as an example)
Product Characteristics:
1. This cooking machine is made of stainless steel, which is resistant to high temperature, corrosion and heat, there is no poison precipitation, so it is not easy to rust, but it is easy to clean.
2. The use of computer controller can realize accurate temperature control with only one key operation.The pot body can be turned on a high level, which makes it easy to discharge the materials automatically.
3. Commercial Automatic Sugar Cooking Mixer also uses the planetary stirring system, automatically combined with the revolution, scraping the bottom and scraping the edge of the stir evenly so that the materials won't paste the pot.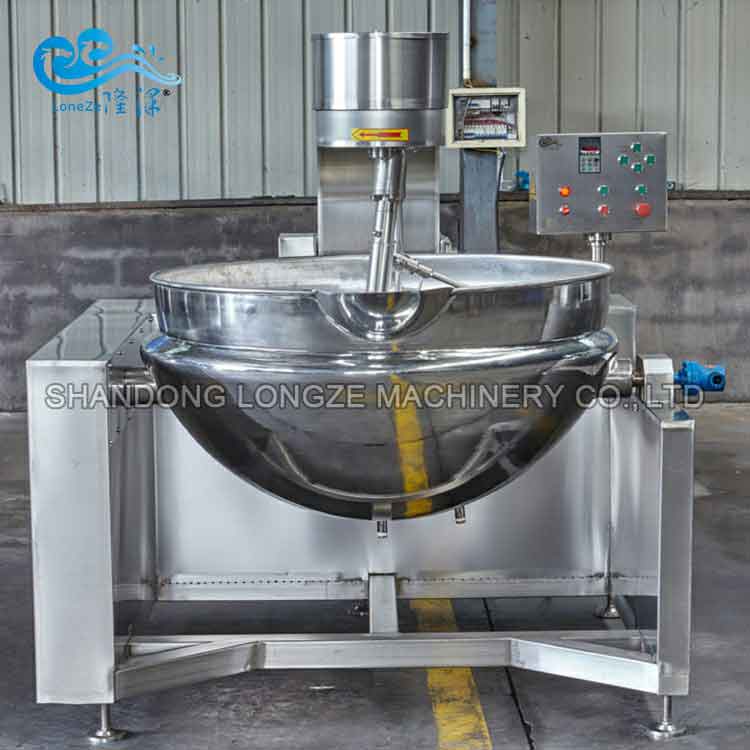 4. There are a variety of heating methods, including steam heating, gas heating, electric heating, heat conduction oil, electromagnetic heating.
5. It also has the characteristics of automatic adding materials, large capacity, automatic discharging, automatic returning, so it can save time and effort.
Commercial Automatic Sugar Cooking Mixer is easy to operate, so that the operation position is simple, the process is professional. Therefore, it is conducive to improve the standardization of the catering industry, the content of science and technology is expected to improve; At the same time, this cooking machine is equipped with temperature control and time control which can realize high efficiency, save labor and time.
Contact Us:
Shandong Longze Machinery Co.,Ltd
Company website:https://www.candyfiremixer.com/
WhatsApp/Wechat:0086 13153609533
Tel:0086 13153609533
E-mail:longzemachinery2@gmail.com
Address:Zhucheng Economic Development Zone, Shandong Province, the first five lines west
Contact:Ms. Rena
If you have any question, please feel free to contact me, I will give you the lowest discount.
Please fill in the form and leave a clear message. We will contact you immediately.