Industrial Intelligent Chili Sauce Stir-fry Cooking Mixer is an automatic equipment for condiment processing and frying. Compared with traditional manual frying materials, this kind of cooking mixer can achieve temperature control, automatic frying, timing heating, automatic discharging, scraping bottom stirring.It can also avoid the sticky phenomenon, the taste quality of the stir-frying material is uniform, and the chili sauce can be automatically and continuously produced. Compared with the traditional manual stir-frying method, both the taste and the speed quality have been greatly improved. That's why it is the choice of sauce processing customers now.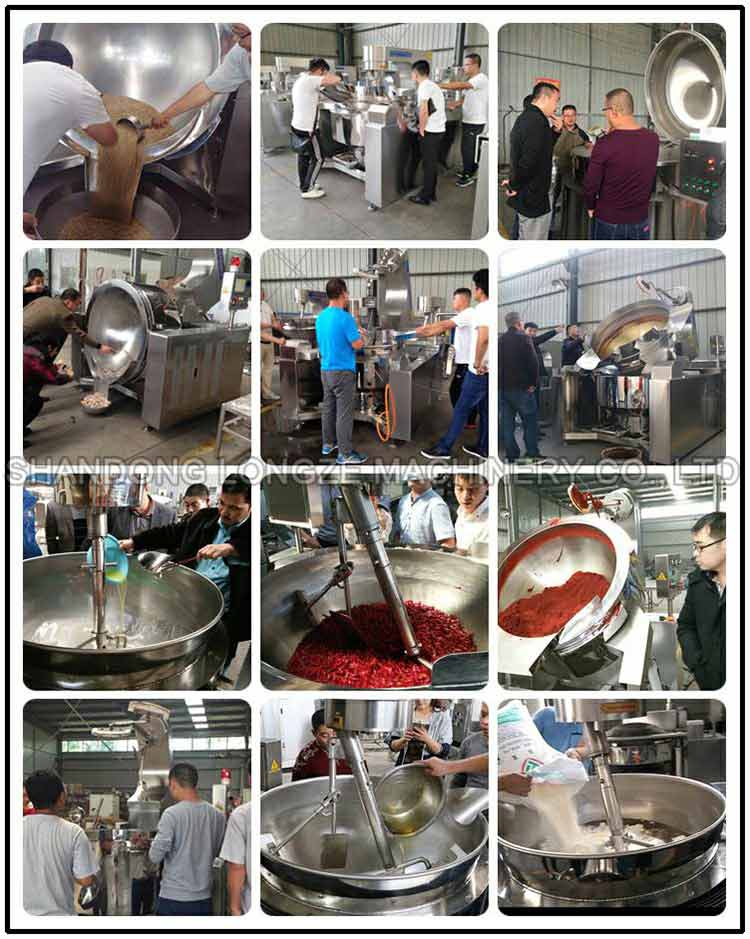 The Industrial Intelligent Chili Sauce Stir-fry Cooking Mixer adopts multi-head stirring blades with automatic stirring, automatic frying and temperature adjustable design. The stirring blade is made of high-strength PTFE, which is wear-resistant and high-temperature resistant, non-toxic, and meets the requirements of food production. The inner and outer pot body and the food zone of this cooking mixer are made of 304 stainless steel, which is easy to clean and meets food hygiene requirements. The stirring speed can be adjusted, and the rotation and revolution are synchronized and run in proportion, which can enhance the unique frying effect. The interlocking design of the stirring paddle, the pot body and the pot turning ensures the safety of the operator.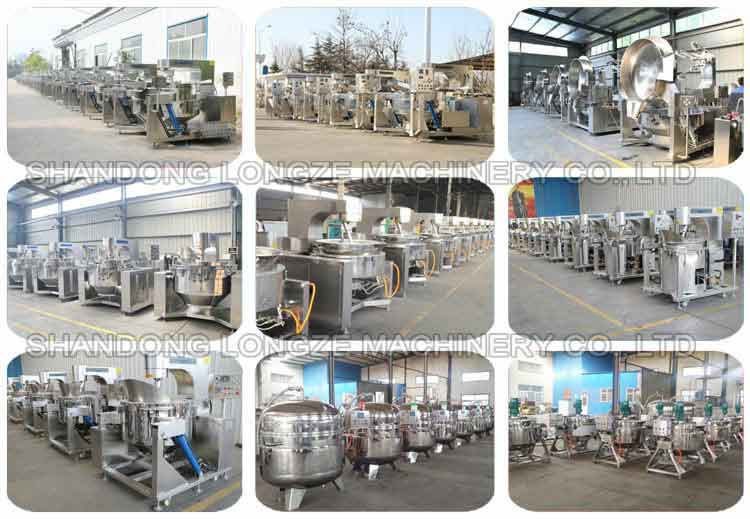 Product Features:
1. It is suitable for a variety of spaces and is easy to disassemble: the Industrial Intelligent Chili Sauce Stir-fry Cooking Mixer has beautiful appearance, reasonable design, compact structure, convenient installation, simple operation and easy maintenance.
2. Mixing method: The mixing method adopts a special inclined transmission, and the planetary agitator used can fully touch the pot body. The mixing system adopts a combination of rotation and revolution, and its transmission ratio is not an integer transmission ratio to ensure that there are no blind spots for mixing in the pot. 3. Outstanding safety: All the food touching parts of the Industrial Intelligent Chili Sauce Stir-fry Cooking Mixer are made of stainless steel and it is polished, which meets the requirements of the Food Sanitation Law of the People's Republic of China.
Contact Us:
Shandong Longze Machinery Co.,Ltd
Company website:https://www.candyfiremixer.com/
WhatsApp/Wechat:0086 13153609533
Tel:0086 13153609533
E-mail:longzemachinery2@gmail.com
Address:Zhucheng Economic Development Zone, Shandong Province, the first five lines west
Contact:Ms. Rena
If you have any question, please feel free to contact me, I will give you the lowest discount.
Please fill in the form and leave a clear message. We will contact you immediately.