The stirring method of Industrial Intelligent Fruit Jam Stir-fry Cooking Mixer uses the double-planetary mixing system. The pan body is automatically turned and poured, and the material is discharged quickly, which is more suitable for viscous sauces and granular materials. The kind of cooking mixer is mainly used for frying various stuffings and various viscous materials. The heating method of electric heating oil is adopted. The discharging method of the pot body is turned over and the material is discharged. The special frying machine for stuffing can also be turned up separately.


In addition, the mixing method adopts a special inclined rotation, and the planetary agitator is used to fully touch the pot body to realize the non-integer speed ratio of revolution and rotation, so that there is no dead corner of stirring in the pot. The performance of Industrial Intelligent Fruit Jam Stir-fry Cooking Mixer is stable, and the key parts such as equipment gears and shafts are all equipped with CNC machining center equipment, which improves the interchangeability of parts. The use of advanced rotating and sealing structure makes sure that there is no dead corners in the pot and it is easy to clean.
The pot is made of SUS304 food-grade stainless steel. The certification standard makes food frying safer. It adopts high-precision, high-hardness synchronous gears, and adopts grinding processing, with a precision of five grades, and the tooth surface is more wear-resistant. Therefore, the service life of the Industrial Intelligent Fruit Jam Stir-fry Cooking Mixer is increased, and the noise is also effectively reduced. The hydraulic material dumping mode realizes automatic hydraulic boom, hydraulic tilting pot and automatic material dumping, reducing labor intensity.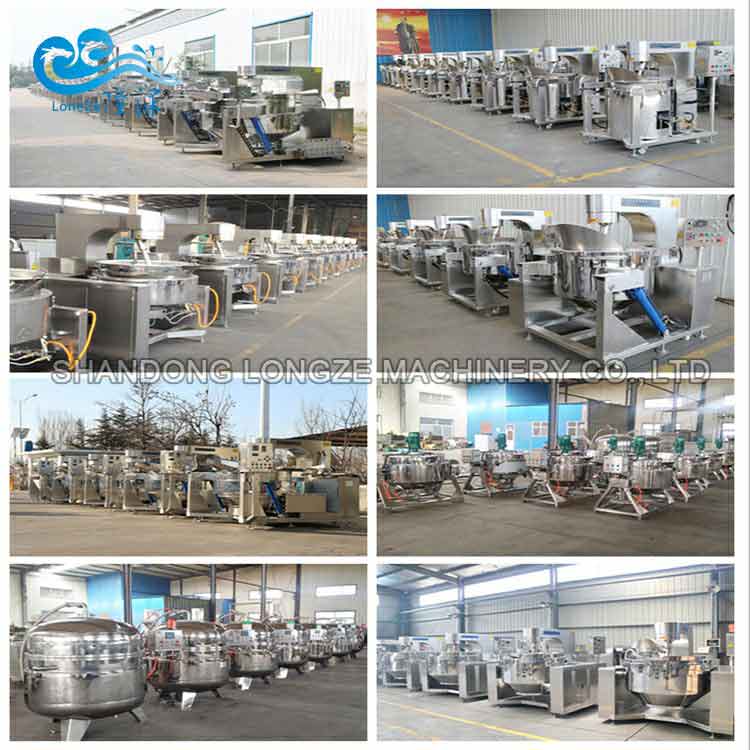 Temperature control: The directly connected temperature measuring device is adopted, the temperature measuring rod also directly touch the material, and the temperature of the material is directly measured. The temperature measuring rod is equipped with a sheath with high accuracy, which better protects the temperature measuring rod, so that Industrial Intelligent Fruit Jam Stir-fry Cooking Mixer is durable, stable and reliable. What's more, it can effectively control the problem of some materials from the paste pot.
Contact Us:
Shandong Longze Machinery Co.,Ltd
Company website:https://www.candyfiremixer.com/
WhatsApp/Wechat:0086 13153609533
Tel:0086 13153609533
E-mail:longzemachinery2@gmail.com
Address:Zhucheng Economic Development Zone, Shandong Province, the first five lines west
Contact:Ms. Rena
If you have any question, please feel free to contact me, I will give you the lowest discount.
Please fill in the form and leave a clear message. We will contact you immediately.