Brief introduction of food and beverage high-pressure cooking pot:
Food and beverage high-pressure cooking pot is mainly used for milk and sugar, beverages, medicines and other elements and various medicines to mix and store evenly after mixing. It is an indispensable equipment for the manufacture of eight-treasure porridge, dairy, beverage, and pharmaceutical manufacturers.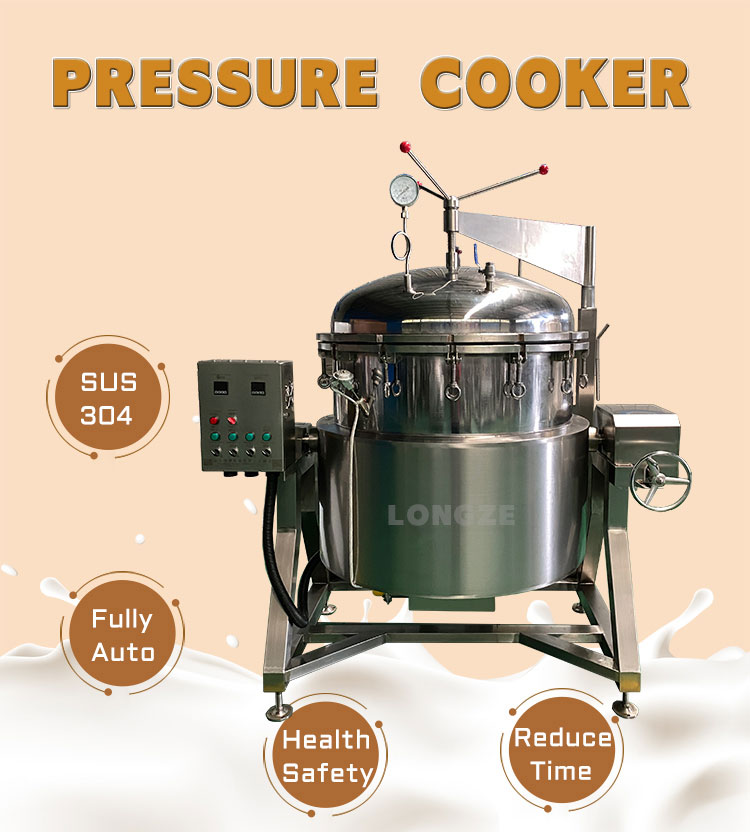 Classification of food and beverage high-pressure cooking pots:
1. According to the heating method, it is divided into: electric heating cooking pot, steam heating cooking pot

2. According to the form, it can be divided into: vertical cooking pot and tilting cooking pot

3. According to the needs of the process, the equipment with or without mixing is used.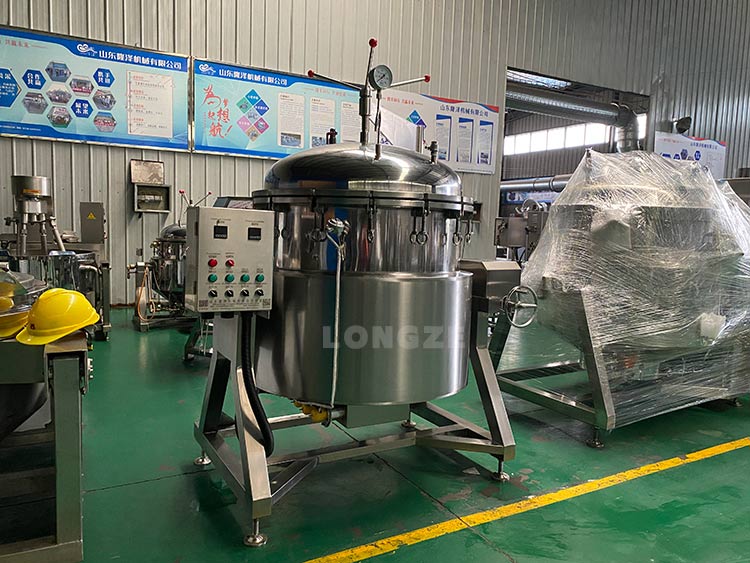 Structure of food and beverage high-pressure cooking pot:
1. Volume: 200L, 300L,500L, 600L, 800L.

2. Structure: It can be divided into tilting and vertical structures, with and without mixing according to the process requirements.

3. Pot body material: ①Inner pot body is stainless steel (SUS304), jacket and bracket carbon steel (Q235-B) are coated with anti-rust paint; ②The inside and outside are all stainless steel.

4. Pot with stirring device: stirring at the center of the top, the output shaft of the reducer and the shaft of the stirring paddle are connected by a looper, which is convenient for disassembly and cleaning.

5. Stirring speed: 36r/min (a certain speed can be selected according to customer requirements); stirring paddle form: ordinary stirring (anchor type) and bottom scraping stirring.

6. Foot form: ①Vertical pot body: triangular pyramid type, round tube type; ②Tiltable pot body: trough-shaped bracket type.

7. Equipment configuration: dial pointer thermometer, steam inlet, discharge port, etc. (vertical structure).

8. The tilting cooking pot can be tilted up to 90°, and the tilting method is manual turning.

Note: Jacket working pressure, motor power, heating power, stirring blade structure, etc. can be customized according to customer's special requirements.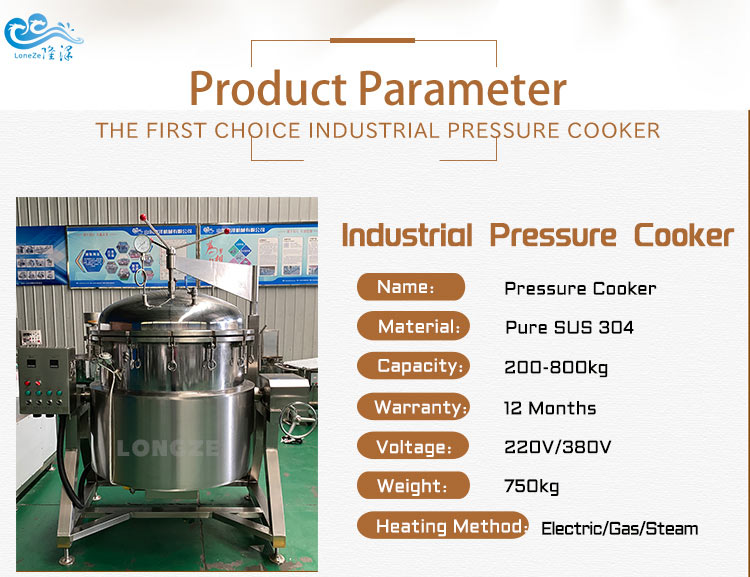 Uses of food and beverage high-pressure cooking pot:
Cooking pots are widely used in the processing of foods such as candy, pharmaceuticals, dairy products, wines, pastries, preserves, beverages, canned foods, and lo Processing good equipment that improves quality, shortens time, and improves working conditions.

Features of high pressure cooking pot:
Food and beverage high-pressure cooking pot The high-pressure cooking pot uses a certain pressure of steam or (oil, water) as the heat source. The cooking pot has the characteristics of large heating area, high thermal efficiency, uniform heating, short liquid boiling time, and easy heating temperature control. The inner pot body (inner pot) of the cooking pot is made of acid-resistant and heat-resistant austenitic stainless steel, equipped with pressure gauge and safety valve, beautiful appearance, easy installation, convenient operation, safe and reliable.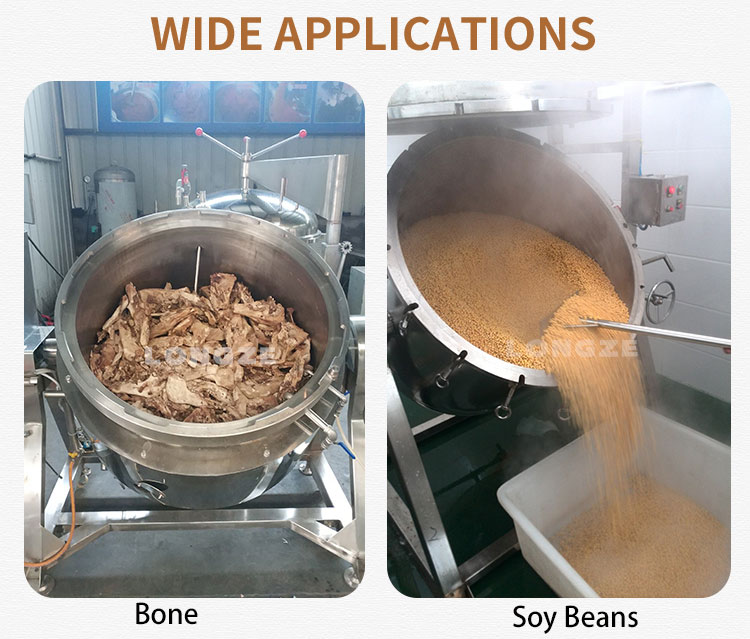 Application range of high pressure cooking pot:
Application in confectionery: (production of boiled sugar under normal pressure) granulated sugar and starch syrup ingredients, melting, boiling, and blending section (with stirring and scraping). It has the characteristics of large heating area, high thermal efficiency, uniform heating, short boiling time of liquid material, and easy control of heating temperature.

Application in pastries: frying process (precise heating temperature, adjustable).

Application in beverages: Can form a sugar system: that is, a sugar system is composed of a water-powder compound mill, a jacketed pot, a double filter, and an ultra-high temperature sterilizer. It can also be used for tea extraction and pre-cooking, heating and mixing of other materials.

Application in candied fruit: can be used for pre-cooking (debittering) in candied fruit, sugar boiling process.

Application in canned food: used for pre-cooking and mixing of materials.

Application in sauce products: used in the preparation and sterilization of various sauces such as bean paste, sweet noodle sauce, peanut butter, chili sauce, beef sauce, etc.
Shandong Longze Machinery Co.,Ltd
Company website:https://www.candyfiremixer.com/
WhatsApp/Wechat:0086 13153609533
Address:Zhucheng Economic Development Zone, Shandong Province, the first five lines west
If you have any question you can contact me ,i can give you the lowest discount.
Please fill in the form and leave a clear message. We will contact you immediately.