Commercial ball shape popcorn production line

Popcorn assembly line structure
The liner of Longze commercial popcorn machine adopts a semi-ball shape stainless steel liner formed by one-step stamping. The material is SUS304. It adopts electromagnetic heating. The heating power is 20kw. It has a large heating area and high thermal efficiency. The pot diameter is 700mm, the pot depth is 350mm, and the thickness is 4mm. The mixing motor power is 1.5kw, the turning power is 1.5kw, frequency conversion speed regulation, hydraulic backward turning, automatic discharging.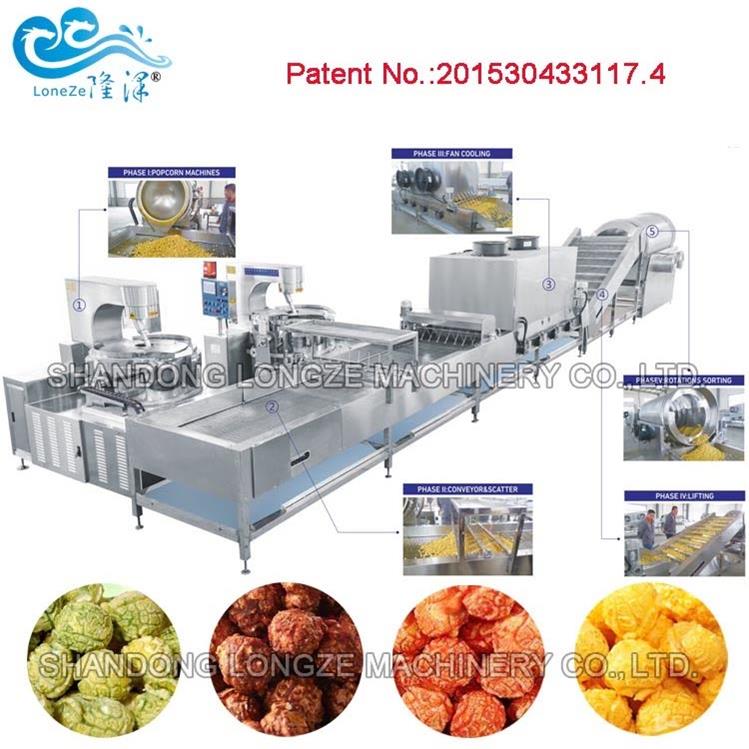 The price of new popcorn machines ranges from more than 20,000 to more than 40,000. Commercial popcorn machine is fast, one pot in 3-4 minutes, 3-5 kg ​​per pot; single pot and single motor, strong independence. Automatic ignition, automatic temperature control, automatic control of mixing speed, automatic pot turning, automatic discharging. Easy to use, not hot. Broad vision, fast shipping speed and strong applicability.

Product model name: LZ-700B commercial ball shape popcorn pot
Product trademark: Longze brand
Dimensions: Length * Width * Height: 1600x1400x1600mm.
Pot body thickness: 4mm
Pot body depth: 350mm
Pot diameter: 700mm
Power supply: three-phase four-wire 380V
Power: 1.5+1.5kw
Machine material: all stainless steel
Stirring blade: PTFE
Mixing form: planetary/bottom scraping
Arm form: automatic back flip
Discharging method: the body of the pot is automatically sent to the discharging position, and the rod is manually turned over the pot
Spindle revolution speed (adjustable range): 6.7~33 revolutions per minute
Stirring rotation speed (adjustable range): 14~69.3 revolutions per minute
Control method: button control
Box control range: switch, temperature, stirring speed, turning back the stirring arm, emergency stop, etc.
Equipment weight: about 600kg
Work efficiency: 4.5kg of popcorn can be produced at a time, 3-4 minutes.
Remarks: The data in the chart is the standard configuration, if the customer requires otherwise, please submit.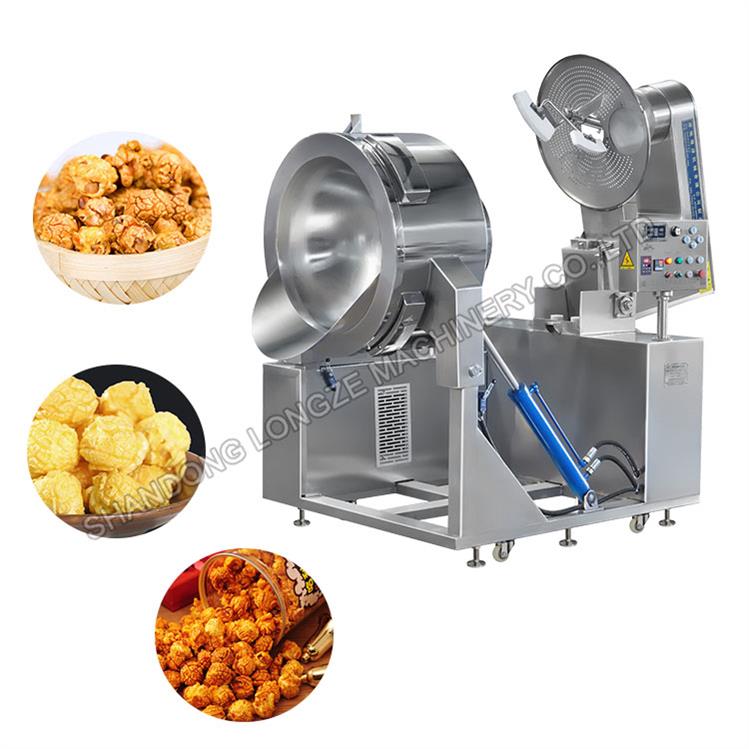 The working principle of commercial electromagnetic equipment heating is based on the principle of magnetic field induction eddy current heating. The popcorn production line uses current to pass through the coil to generate a magnetic field. When the magnetic force in the magnetic field passes through the bottom of the iron-containing pot, it will generate countless small eddy currents, making the pot body It heats itself at high speed and then heats the popcorn in the pot.

Shandong Longze Machinery Co.,Ltd
Company website:https://www.candyfiremixer.com/
WhatsApp/Wechat:0086 13153609533
Company Phone: 0086-536-6503337
E-mail:longzemachinery2@gmail.com
Address:Zhucheng Economic Development Zone, Shandong Province, the first five lines west
Please fill in the form and leave a clear message. We will contact you immediately.