Sanitary Grade Industrial Automatic Stirring Pot Planetary Electric Heat Stirring Cooking Mixer Machine
Automatic Cooking Mixer Machine Main features:
As stirring way, it can devide into: normal type and planetary type.
As the shape of kettle's bottom, it can devide into: flat pan type and round type.
Those feature you can make pick up as your wish. We accept customized product.
Automatic Cooking Mixer Machine has following function: heating, mixing, stir, dewatering, fry, stew etc.
As heating methods, it can devide into: steam heating, electric heating, heat-conducting oil heating, gas heating.
As discharge way, it can devide into: manual type, automatic type.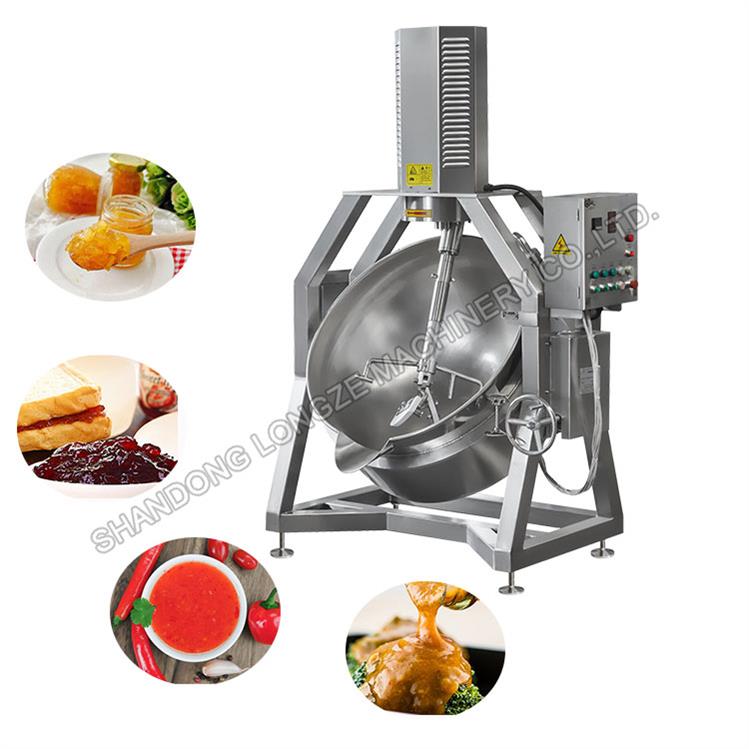 Automatic Cooking Mixer Machine Features:
1) Flame temperature can be regulated optionally
2)Reasonable structure and convenient operation.
3) Full burning, smokeless,dust-free, little carbon, and no environmental pollution.
Sanitary Grade Industrial Automatic Cooking Mixer Machine Processing Technology:
1.How about your product quality?
--Since we are professional manufacture in this field, high quality is our determination.
2.How to install and operate the machine?
--Normally we don't disassemble the machine when packing, and we will text and adjust the machine before delivery, so customers can use it directly.
1.What kind of packing box?
--First we strap the machine with waterproof plastic film, and then pack it in a standard exporting plywood case box. Which insure better protection while transporting.
--For light and small cargo, Express is the preferred. For heavy and large cargo, Shipping is better.
4. How should I do if we meet some trouble while operating?
--Don't worry about that, our professional solution and video will send to you immediately. And we can provide door-to-door service is necessary.
5. Why choose our machine?
--We have 10-year-experience in providing and developing automatic machinery of food and beverage industry.
With high quality, excellent service, we walk at the forefront of the industry.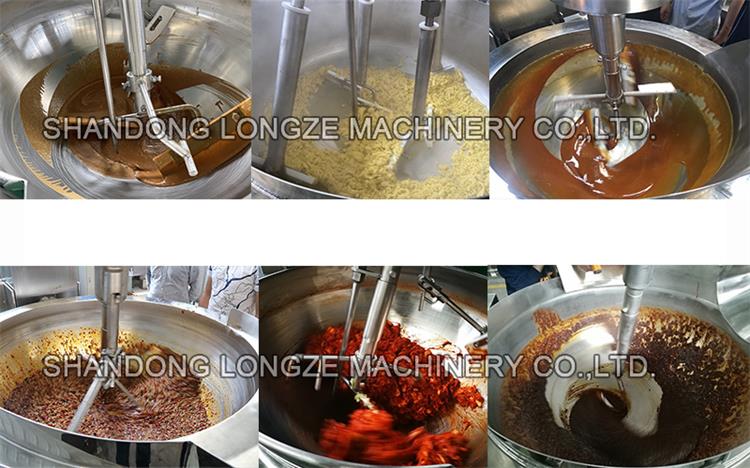 Industrial Electric Oil Jacketed Cooking Pot Machine Planetary Electric Heat Stirring Cooking Mixer Machine
Industrial Automatic Cooking Mixer Machine Product introduction:
This Industrial Automatic Cooking Mixer Machine uses the SUS304-pan bravery for permeability material.Heat thermal oil heating pipe is a kind of internation popular high quality equipment.
This Automatic Cooking Mixer Machine absorbs the international advanced technology and combines the expert advice of many food manufacturers to develop a new type of scraping bottom mixing sandwich pot.
The Sanitary Grade Industrial Automatic Stirring Pot Planetary Electric Heat Stirring Cooking Mixer Machine stirring part of the pot body adopts a one-time forming stainless steel pot body to ensure the smoothness and smoothness of the pot. The spring type is adopted, and the bottom is made of self-weight type, so that the pot body is in close contact with the stirring blade, so that the material is evenly stirred, and the material is not sticky. The power is matched by the perfect combination of the frequency converter and the worm gear and the speed reducer, and the transmission part is rotated and rotated. It does not have the integer transmission ratio, so that there is no dead angle in the pot, and the transmission and sealing of the cash are used to make the transmission part and the pot clean and hygienic. Sanitary Grade Industrial Automatic Cooking Mixer Machine adopts hydraulic flip arm and turns the pot to discharge, saving labor, saving time and time.
Shandong Longze Machinery Co.,Ltd
Company website:https://www.candyfiremixer.com/
WhatsApp/Wechat:0086 13153609533
Company Phone: 0086-536-6503337
E-mail:longzemachinery2@gmail.com
Address:Zhucheng Economic Development Zone, Shandong Province, the first five lines west
Please fill in the form and leave a clear message. We will contact you immediately.