Tilting Industrial Large Sauce Mixer Cooking Machine/Fruit Jam Stirring Cooking Mixer Machine
Industrial Large Sauce Mixer Cooking Machine Main Features:
simple operation automatic,intelligent and one button, safe operation and stable performance
uniform stirring no any stirring blind spot in the pot
energy saving and environmental protection without waste residue and noise pollution
rapid heating achieve the target temperature with short time
safe use inductive heating and no danger of fire
use hydraulic thrust to tilting pot body, make the material is easy to in and out and save manpower.
Food grade stainless steel is safety and healthy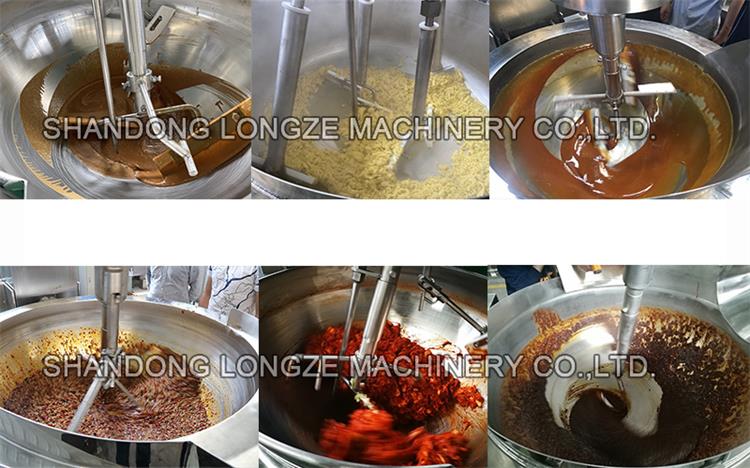 Industrial Cooking pot Large Sauce Mixer Cooking Machine takes a certain pressure steam as heat source (also can choose electrical heating), owns characteristics such as large heating area, high thermal efficiency, uniform heating, short liquid material boiling time and easy to control the heating temperature. The inner pot using acid heat-resistant austenitic stainless steel manufacturing, equipped with pressure gauge and safety valve. Industrial Cooking Mixer Machine has beautiful outlook, easy installation, and convenient operation, is safe and reliable.
Tilting Industrial Large Sauce Mixer Cooking Machine is mainly used for milk, sugar, beverage, medicine and other elements and all kinds of drugs to mix and store. Stirring Cooking Mixer Machine has been the indispensable equipment in making rice pudding, dairy products, beverage and pharmaceutical.
Fruit Jam Stirring Cooking Mixer Machine is specially used for cooking syrup,chilli paste,and other sauce paste. It at the same time has mixing function. The machine is made of stainless steel.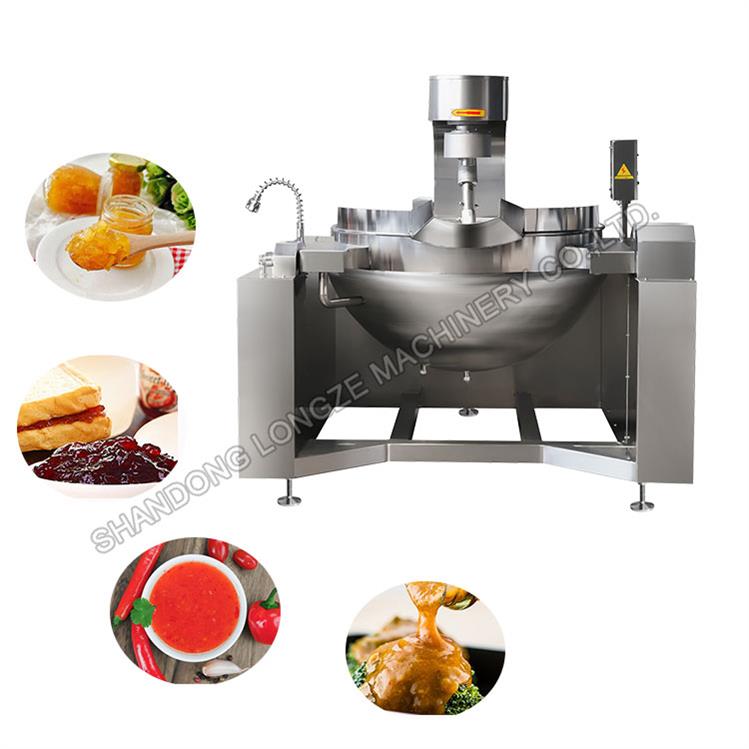 Cooking pot is widely used in candy, pharmaceutical, dairy products, alcohol, pastry, candied fruit, beverage, canned foods, and other food processing, also can be used for large restaurant or dining room to boil soup, cook, stew, congee and so on. Tilting Industrial Large Sauce Mixer Cooking Machine is the ideal equipment in food processing to improve quality, shorten the time and improve working conditions.
Tilting Industrial Large Sauce Mixer Cooking Machine:
SUS304 Stainless Steel Industrial Cooking Mixer Tank Jam Steam Kettle is widely applied in food processing such as viscous syrup,jam,paste, jam, etc. Industrial Large Sauce Mixer Cooking Machine also can be used to boil soup ,water ,cook food, stew and porridge.it's also the best choice for heating and mixing thick products. it is considered to be the ideal equipment in the area of improving quality, shortening the time and improving working conditions.
1. It is the best choose for sugar melting and jam making such as the matt jam and strawberry jam making, tomato sauce making and candy, medicine, dairy, alcohol, cake, beverage, sweetmeat.
2. This machine is composed of kettle ,backet ,worm wheel and worm etc.
3. The cooking mixer machine can revolve with 90 degree.
4. The machine is made of stainless steel SUS304 and 316L, which has perfect corrsion-proof performance, and is highly endurable according to GMP requirements.
5. Blender also can be added according customer requirements.
Shandong Longze Machinery Co.,Ltd
Company website:https://www.candyfiremixer.com/
WhatsApp/Wechat:0086 13153609533
Company Phone: 0086-536-6503337
E-mail:longzemachinery2@gmail.com
Address:Zhucheng Economic Development Zone, Shandong Province, the first five lines west
Please fill in the form and leave a clear message. We will contact you immediately.