Industrial Automatic New Type Mushroom Popcorn Machine
Our New Automatic Popcorn Machine is a professional mechanical design,according to the principle of leverage and body mechanics tocalculate the precise location and the most effort particle arm point,after several actual verification, continuous improvement
Industrial Automatic Pop Corn Maker Machine Product Description:
Mushroom Pop Corn Maker Machine Feature:
1. This machine is including pot, support, stirring system, heating system, speed adjusting device, stirring shaft and pot overturn system, etc.
2. The heating method can be LPG, Natural gas, steam and electromagnetism.
3. This machine adopts the stirring method of combination of rotation and revolution, which can guarantee there is no stirring blindness.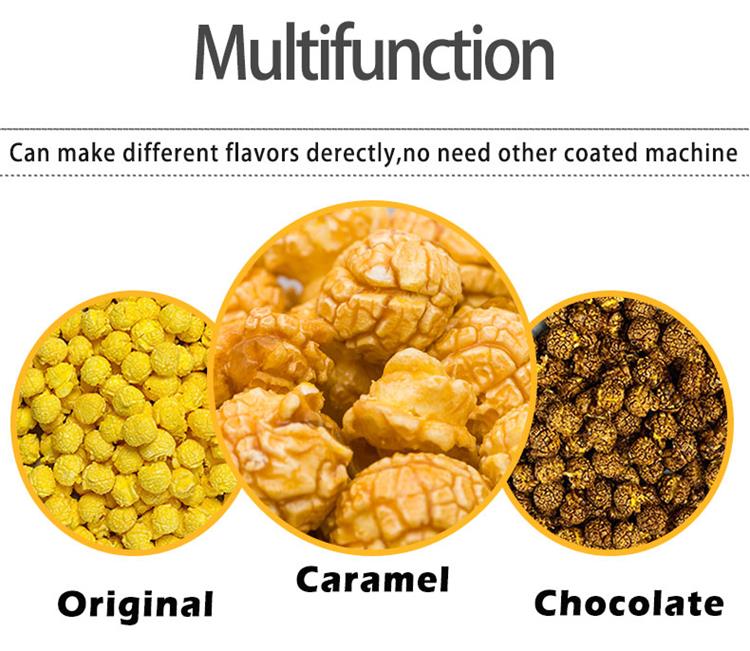 Industrial Automatic Popcorn Machine Advantages:
All existing equipment of our Industrial Automatic Mushroom Caramel Popcorn Machine is the most labor-saving, fire is the strongest equipment;meet the rapid initiation conditions, thus ensuring the production capacity and texture.
1.milt-flavor one-pot out, using stepless frequency control to mix corn, sugar and other flavors of raw materials evenly.
2.The sugar is evenly mixed, and the combination of rotation and revolution is adopted to ensure that there is no blind spot in the pot.
3.The flower ball type can be fixed in one pot, and the bursting temperature of the spherical corn can be reached in a short time,which effectively solves the problem that only popcorn can be produced on the market.
4.Instantly discharge, avoid paste pot, and ensure the color and fragrance of popcorn.
5. the bursting time is short, the perfect combination series and pot material, shortening the comburst time.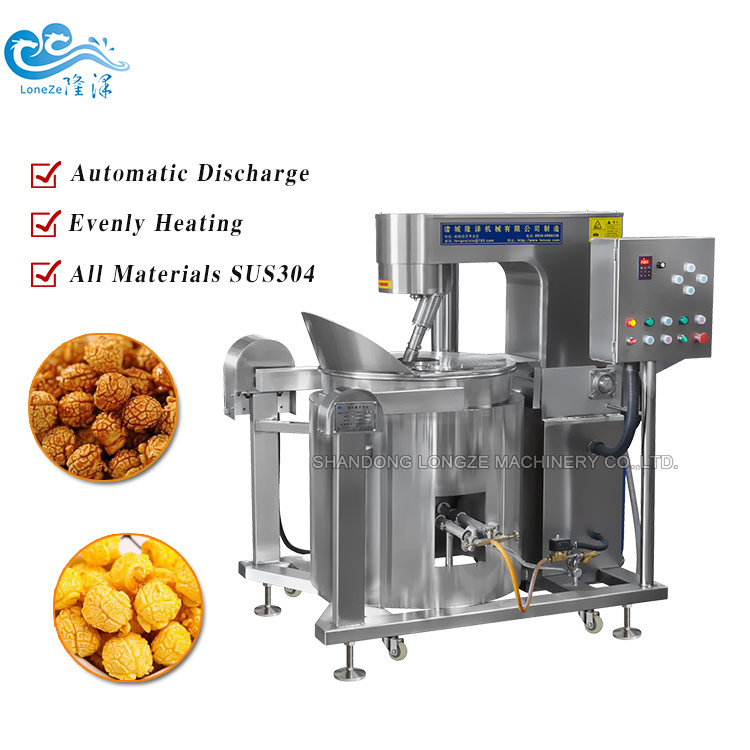 Features of new type automatic popcorn machine:
2.Simple structure, easy operation.
3.High efficient heating element,3-5 minutes/batch.
4. Multifunction Industrial Automatic gas pop corn machine have bigger capacity.
5.All stainless steel materials.
Shandong Longze Machinery Co.,Ltd
Company website:https://www.firemixer.com/
WhatsApp/Wechat:0086 13153609533
E-mail:longzemachinery2@gmail.com
Address:Zhucheng Economic Development Zone, Shandong Province, the first five lines west
If you have any question you can contact me ,i can give you the lowest discount.
Please fill in the form and leave a clear message. We will contact you immediately.