Horizontal automatic fillings mixer machine_sealed syrup mixer machine
Vacuum horizontal mixer machine adopts a stirrer made of polytetrafluoroethylene scraper. During the tumbling and stirring process of the material, the stirrer is in full contact with the pot body in all directions to ensure that there is no dead corner of stirring. The opening, unloading and resetting of the pot body are controlled by air pressure and mechanical transmission, and the operation is extremely convenient. The heating area is large and hot, which is suitable for the requirements of different materials for temperature and heating speed.

Longze Machinery Co., Ltd. has several advanced processing equipment such as laser cutting and blanking machines, laser marking machines, engraving machines, automatic shears, etc., as well as strong technical force. It specializes in the development and manufacturing of mixing and heating equipment. A network system integrating raw material supply, product development, process design, manufacturing, finished product inspection, and after-sales service has been formed. Up to now, the repair rate of Longze equipment has been almost zero. Fully automatic horizontal mixing machine mixing materials, No need for after-sales equipment, it is a good equipment!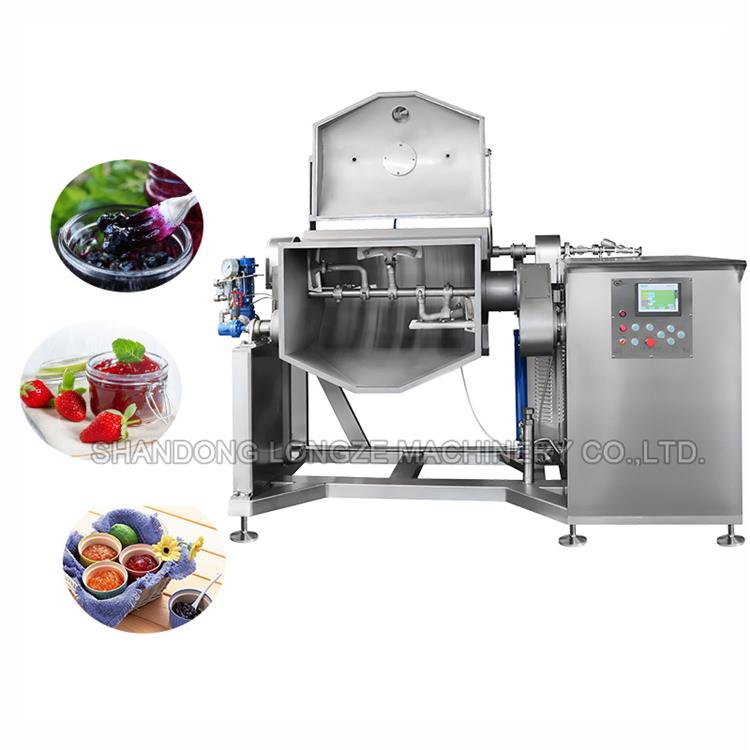 Introduction of horizontal automatic fillings mixer machine
The temperature sensor is embedded in the wall of the horizontal vacuum mixer machine to directly measure the temperature of the material, and the measurement accuracy deviation is +1℃. The electronic control part is a combination of international imported electrical appliances, reaching the IP65 level to ensure the safety of the operator's operation. The touch screen design makes manual operation simple and easy to learn.

Features of sealed syrup mixer machine
Advantages of the horizontal syrup mixer machine: The new design adopts a structure with a low feeding port and a high discharge port, which is easy to operate. When dumping and discharging, the bottom of the pot is raised and the mouth is connected to the material cart, which is convenient for discharging. There is no need to bend down to pick up little by little. When the pot body of the horizontal fillings mixer machine reaches a large inclination, the arm can directly touch the bottom of the pot body, which is very convenient for cleaning.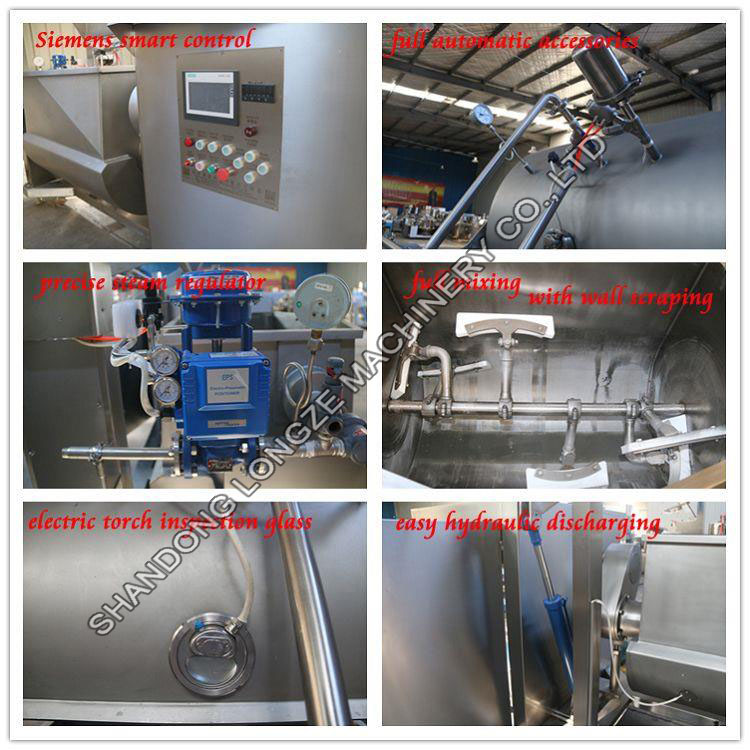 Features of 500L horizontal mixing machine
Longze performance characteristics: temperature control: automatic temperature measurement, temperature measurement and control in the whole process, digital display, stable and reliable. (Measure the temperature of the material directly) Feeding: There is a feeding port on the side of the pot body, which avoids splashing of the liquid in the pot during feeding, which is safer and more convenient. Mixing: Mixing frequency conversion speed, unique scraper, horizontal mixing method, mixing more evenly, large-scale jujube fillings wok, scraping the pan more thoroughly, which can effectively control the problem of pot sticking of certain materials.

Advantages of low temperature horizontal mixer:
Low temperature horizontal mixer Longze mechanical wok heating methods include: steam heating, electric conduction heating, electromagnetic heating. Discharging: The pot body is self-turning and automatic discharging, and the automatic horizontal mixer machine machine is convenient, fast and thorough. It is suitable for frying viscous and granular materials. Material: The main body of the equipment is 10mm thick 304 stainless steel, which is bright and beautiful, hygienic and safe. horizontal horizontal stirring and frying can reduce the frying temperature. horizontal mixer machine is especially suitable for frying of heat-sensitive raw materials, avoiding the inferior changes in the taste of the color machine due to excessive heating.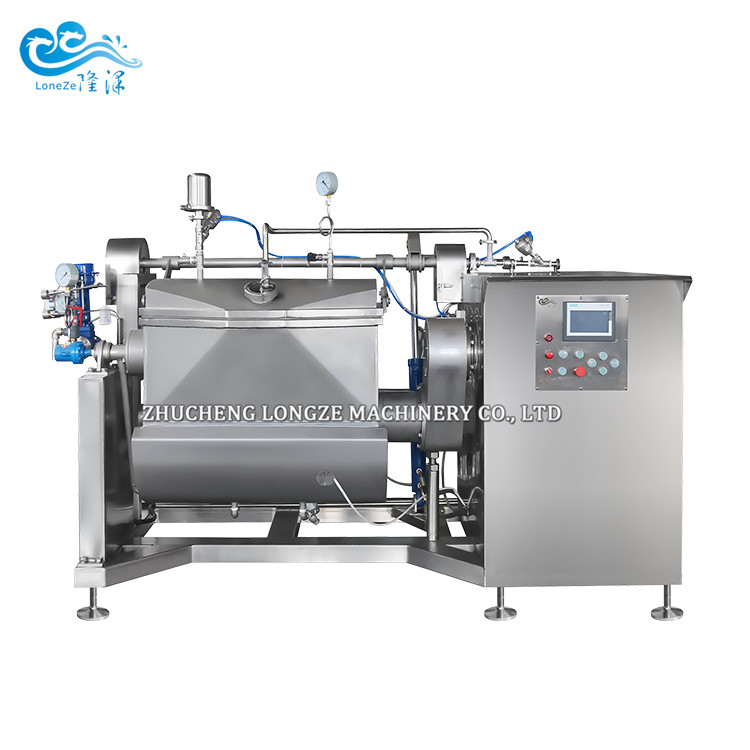 Sealed fillings mixer machine
Longze brand scraping side mixer machine has a good effect in various fillings, conditioning and fruit pulp processing factories across the country, and is well received by users. All food contact parts of this product are made of 304 stainless steel. It has a wide range of use, convenient operation, simple, and strong practicability. Different types and materials can be selected according to different products. Scrape and stir can realize effective pot turning, uniform and non-stick pot;

The mixer horizontal stirring jacketed pot produced by Shandong Longze Machinery Co., Ltd. consists of a vertical tube heater, a concentrator, a condenser and a pipeline valve. The vacuum system can be equipped with a hydraulic ejector or vacuum pump with other equipment. The heater and evaporator adopt stainless steel heat preservation structure, and the outer heat preservation layer is made of stainless steel sheet, and the surface is treated with mirror or matt finish. And with a stirring device, effectively reduce labor costs.
Shandong Longze Machinery Co.,Ltd
Company website:https://www.candyfiremixer.com/
WhatsApp/Wechat:0086 13153609533
E-mail:longzemachinery2@gmail.com
Address:Zhucheng Economic Development Zone, Shandong Province, the first five lines west
If you have any question you can contact me ,i can give you the lowest discount.
Please fill in the form and leave a clear message. We will contact you immediately.