If less productivity is required, induction popcorn machine can work alone for producing caramel or other flavored gourmet popcorns with direct coating, no need other coating machines.Commercial induction popcorn machine can also work along with the production line of 7 meters to reduce manpower cost and facilitate the processing.
Only by adding flavor materials in the popcorn kettle corn pot, will any flavored popcorns be ready in 15 seconds.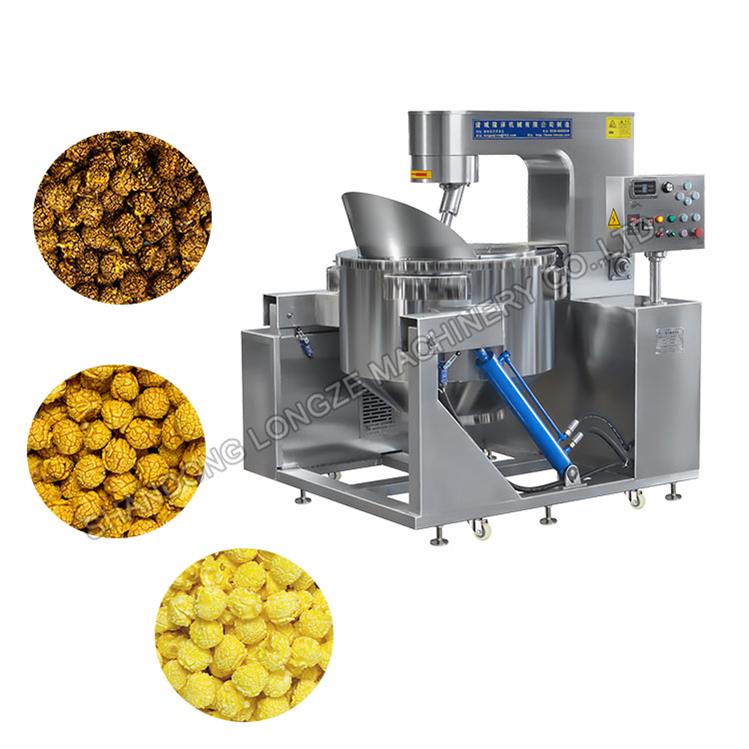 Main features of electric popcorn machine:
-380V/3 phase/50Hz or as customized
-around 100L, 4mm thickness, φ700mm, half sphere
-full stainless SUS304 from top down to bottom
-electromagnetic induction heating
-fully automatic with user friendly control panel
-planetary mixing to avoid burnt or sticky together
-Taiwan made gear reducer, silent and free from maintenance
-directly produce flavored/seasoning/savory popcorns, no need other coating machine
-durable quality to enable continuous operation 24/7.
Only by adding flavor materials in the pot, will any flavored popcorns be ready in 15 seconds.
All our customers are welcome to witness testing of popcorn machine and popcorn production line in our factory. They can see the whole processing in reality and trial operation by themselves.
Longze made electric induction popcorn machine aims to meet customers' demand for bigger capacity. It can be combined with our production line to reach bigger capacity upto 6 tons per day.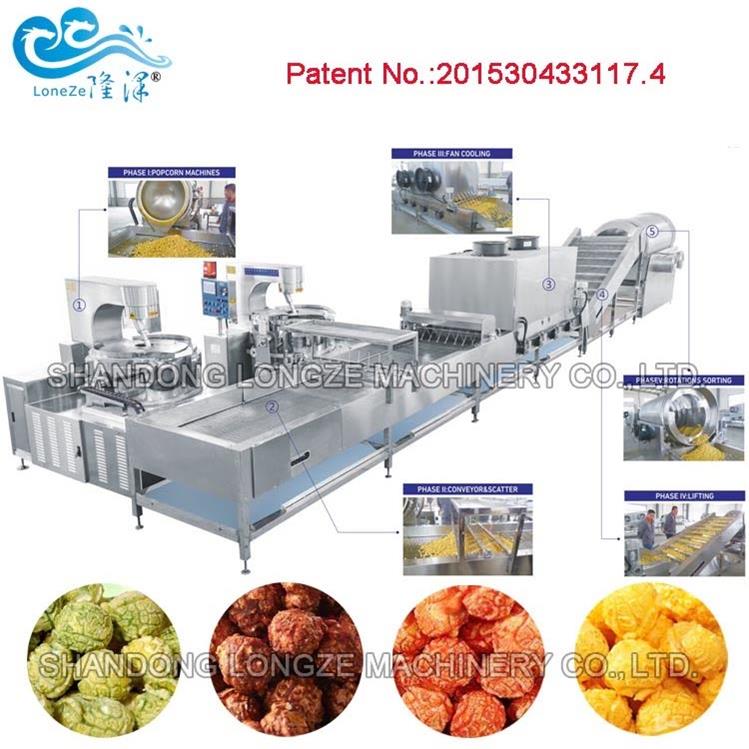 Features of popcorn production line
-The whole system runs automatically after turning on power.
-Functions of popcorn production line mainly include: conveying, detaching, cooking, sifting.
-Making popcorns cool enough and be ready for packaging.
-Powerful fans and side fans are equipped wherever required to make sure better cooling effect.
-All parts are made of stainless steel SUS304 (even for base plates and bolts), world-known suitable steel for food materials, durable and easy to clean .
-Heavy-duty casters are installed for easy transfer and movement.
-Durable motors can work constantly 24/7.
-Variable conveying speed and sifting speed, adjustable through control panel.

Longze Machinery sells automatic popcorn machines, caramel popcorn machines, commercial popcorn machines, industrial popcorn machines, electromagnetic popcorn machines, gas popcorn machines, large popcorn machines, popcorn production lines, popcorn processing lines, etc. Machine, welcome to contact us.
Shandong Longze Machinery Co.,Ltd
Company website:https://www.candyfiremixer.com/
WhatsApp/Wechat:0086 13153609533
E-mail:longzemachinery2@gmail.com
Address:Zhucheng Economic Development Zone, Shandong Province, the first five lines west
If you have any question you can contact me ,i can give you the lowest discount.
Please fill in the form and leave a clear message. We will contact you immediately.