Automatic sugar glazed caramelized cashew nut cooking machine peanut processing machine
This peanut processing coating machine production line aims to help customers to increase productivity while decreasing time and manpower cost. peanut processing coating machine is widely used for frying and coating all kinds of nuts including peanuts, walnuts, almond, cashew nuts, etc. in snack food industry. Nuts coating machine runs fully automatically with control panel, very easy to operate.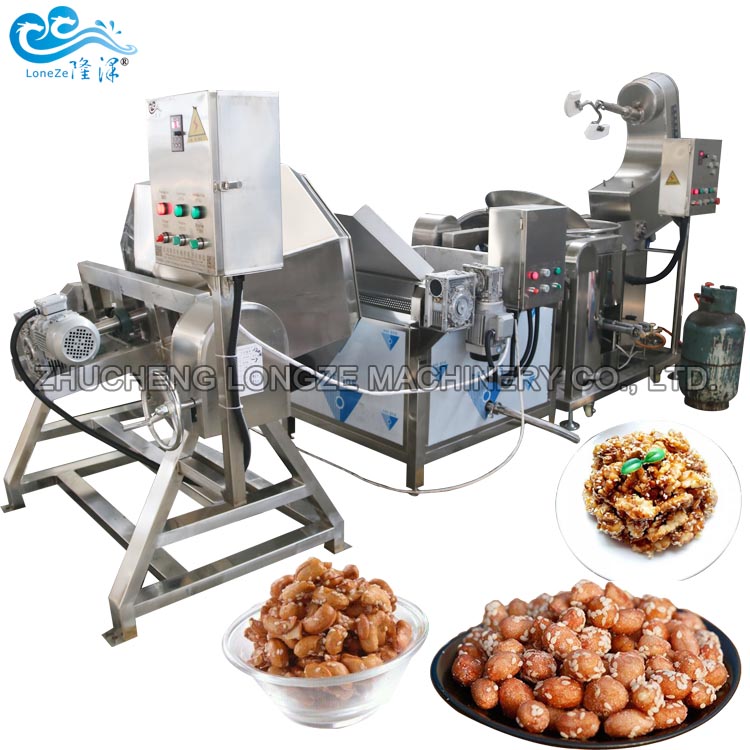 Automatic Nuts Coating Machine Main Features
1) Peanut Processing Coating Machine various heating method can be selected. High efficient burner can save more gas and environmental.
2) Cooking bowl titled to 90° hydraulically to allow easy discharge of food materials
3) Oil collection cart can pump oil back into cooker for recycle use thus make the process easier and cost saving.
4) Drum mixer is designed with stoppers inside to ensure material can actually roll to ensure thorough coating.
5) Variable rotation speed clockwise and anticlockwise
6) All Peanut Processing Coating Machine are made of stainless steel 304, internationally recognized steel for cooking food materials, durable and easy to clean.
7) All machines run automatically by buttons on the control panel, easy to control.
8) Cooker is equipped with planetary mixer to ensure thorough mixing , and avoid burnt or deposit.
9) Scrapers are made of thick Teflon material, endurable under high temperature and anti-corrosion. Side scraper helps to clean splashes on the higher level in the pot.
10) Variable mixing speed can satisfy different cooking process, with max. 50rpm.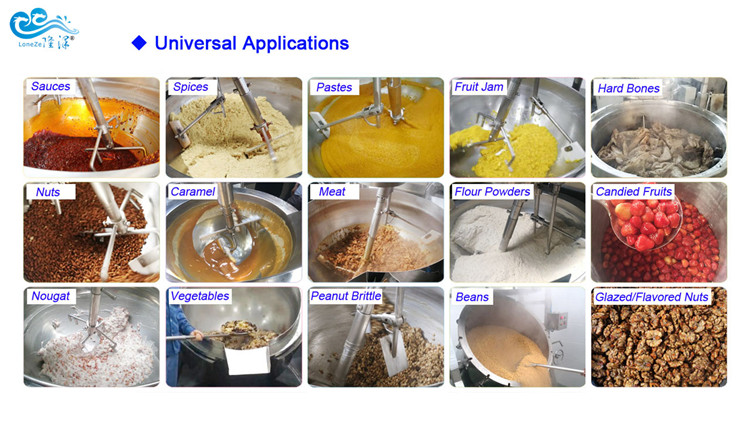 The Nuts Coating Machine production line mainly consists of 3 parts: industrial cooker, oil collection cart and drum mixer, all of which are made of high quality stainless steel SUS 304, internationally recognized steel for cooking food materials. Durability and first class handcraft have earned us many regular customers and helped them achieve their business goal.
-Industrial cooker: it is customizable for various size and capacity, heated by gas or electric induction. This part is for frying nuts with oil to make them crispy with nice taste, and for coating with glucose. The cooker is universal to cook all kinds of food and snacks.
-Oil collection cart: After nuts being fried ready, they will be poured automatically into the cart with sifting bed. Oil will be drained to the collection tank and further be pumped back to the cooker for recyclable usage.
-Drum mixer: After nuts being drained free from oil, they will be immediately and automatically discharged into the drum mixer for coating with sesame, coco powder, fruit powder, etc. to get different flavors. The mixer machine can rotate clockwise and anticlockwise and turn automaticaly or manually 360 degrees for easy loading and discharging.
Shandong Longze Machinery Co.,Ltd
Company website:https://www.candyfiremixer.com/
WhatsApp/Wechat:+86 13153609533
Company Phone: +86-536-6503337
E-mail:longzemachinery2@gmail.com
Address:Zhucheng Economic Development Zone, Shandong Province, the first five lines west
Please fill in the form and leave a clear message. We will contact you immediately.