Popcorn processing production line structure
The liner of Longze ball shape brand popcorn machine adopts a hemispherical stainless steel liner formed by one-step stamping. The material is SUS304. It adopts electromagnetic heating. The heating power is 20kw. It has a large heating area and high thermal efficiency. The pot diameter is 700mm, the pot depth is 350mm, and the thickness is 4mm. . The mixing motor power is 1.5kw, the turning power is 1.5kw, frequency conversion speed regulation, hydraulic backward turning, automatic discharging.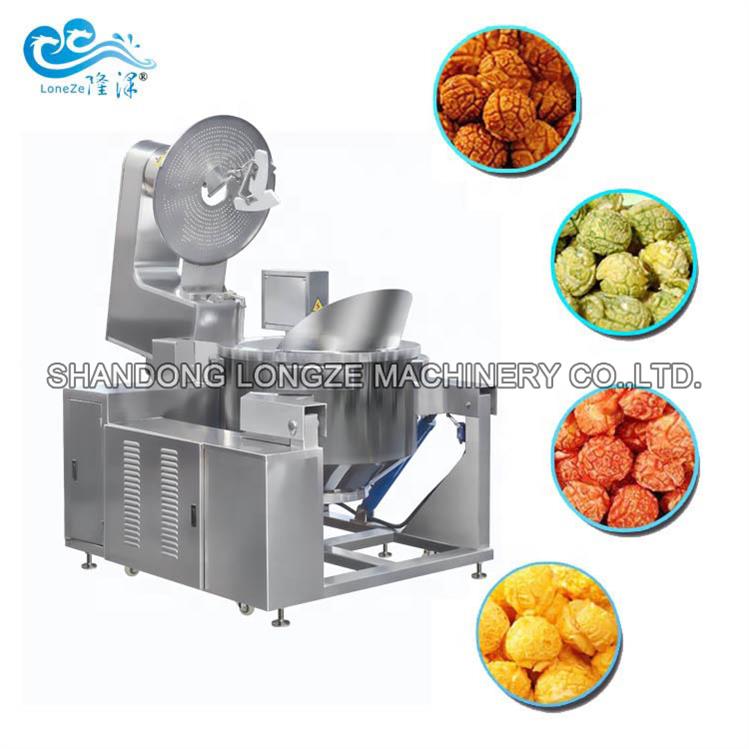 Name: Transmission line (with cooling)
Length: 10 meters
Transmission motor power: 0.75kw
Breaking power: 0.35kw
Name: Screening cage
Product size: 2.6 meters
Product material: material SUS304
Transmission motor power: 0.75kw
Turning power: 0.35kw
Flip speed: support frequency conversion speed regulation

Longze brand popcorn processing production line is of high quality, with zero repair rate. The popcorn machine equipment produced by Longze Machinery is repaired free of charge for life, so that users can rest assured, peace of mind and worry-free is our ultimate goal. Welcome new and old customers from all walks of life to come to our factory to inspect and understand, all employees of Longze Machinery are looking forward to your visit.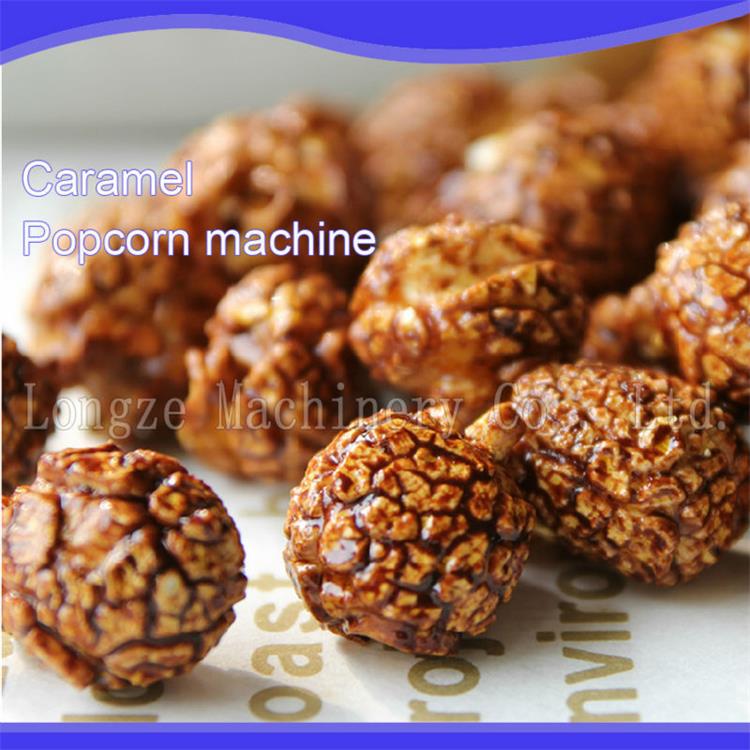 Why choose Longze
1. Longze Machinery has sales department, R&D department and after-sales department, we will all serve you;
2. What we fight is not price, but high-quality quality and friendly service;
3. Our salesmen and engineers will patiently listen to your requirements and the desired effect, and tailor the materials for you;
4. All Longze equipment enjoys one-year warranty and free maintenance service for life

After-sales instructions
The production of high-quality equipment is inseparable from the selection of high-quality raw materials. The plates, pipe fittings and accessories we use are produced by large steel companies inside and outside the pot, such as Yixing Beihai of Japan, Shanghai Baosteel, Siemens touch screen, German Infineon and so on.

The popcorn machine equipment produced by Longze Machinery Factory is guaranteed for one year, parts are exchanged for new ones, and maintenance is free for life. Longze advocates the business philosophy of "think what users think, and what users see". Do not make false quotations and do not participate in abnormal vicious competition. One-year warranty + lifetime maintenance + customized according to customer needs + long-term tracking service. The company has professional installation and commissioning engineers on-site service to solve technical problems for customers.

At the same time provide a full set of pre-sales and after-sales services such as installation and commissioning, maintenance, training, and technical consultation. Let you choose us, there will be no worries!

Product model name:
LZ-700B: Gas popcorn machine
Product trademark Longze brand
Dimensions: length * width * height: 1600x1400x1600mm.
Pot body thickness: 4mm
Pot body depth: 350mm
Pot diameter: 700mm
Power supply: three-phase four-wire 380V
Power: 1.5+1.5kw
Heating method: liquefied gas heating
Machine material: all stainless steel
Stirring blade: PTFE
Mixing form: planetary/bottom scraping
Arm form: automatic back flip
Discharging method: the body of the pot is automatically sent to the discharging position, and the rod is manually turned over to discharge the pot
Spindle revolution speed (adjustable range): 6.7~33 revolutions per minute
Stirring rotation speed (adjustable range): 14~69.3 revolutions per minute
Control method: button control
Box control range: switch, temperature, stirring speed, turning back the stirring arm, emergency stop, etc.
Equipment weight: about 600kg
Work efficiency: 4.5kg of popcorn can be produced at a time, 3-4 minutes.
Remarks: The data in the chart is the standard configuration, if the customer requires otherwise, please submit.

The gas popcorn machine produced by Longze Machinery has a large capacity, a planetary stir-frying machine, 360-degree artificial stir-frying, non-stick pan, even sugar coating, full particles, and a burst rate of over 98%. The unique appearance design of the gas popcorn machine is beautiful and easy to operate. The price of Longze's new popcorn machine ranges from US$6,800 to US$9,600. The small popcorn machine is fast, one pot in 3-4 minutes, 3-5 kg per pot; single pot and single motor, strong independence. Automatic ignition, automatic temperature control, automatic control of mixing speed, automatic pot turning, automatic discharging. Easy to use, not hot. Broad vision, fast shipping speed and strong applicability.

Shandong Longze Machinery Co.,Ltd
Company website:https://www.candyfiremixer.com/
WhatsApp/Wechat:+86 13153609533
Company Phone: +86-536-6503337
E-mail:longzemachinery2@gmail.com
Address:Zhucheng Economic Development Zone, Shandong Province, the first five lines west
Please fill in the form and leave a clear message. We will contact you immediately.