Machine for frying beef sauce_large commercial food cooking mixer machine
Large-scale automatic planetary stirring cooking mixer machine, the structure of the chili sauce cooking mixer machine is mainly composed of a pot body, a frame body, a stirring system, a heating system, a speed-regulating transmission device, a stirring shaft, and a pot body turning system. The planetary mixing jacketed pot is divided into manual and automatic in type. Commercial food cooking mixer machines can be divided into steam type, gas type, gas heat conduction oil and electric heating heat conduction oil from the heating form. The pot body is made of sus304 food grade stainless steel.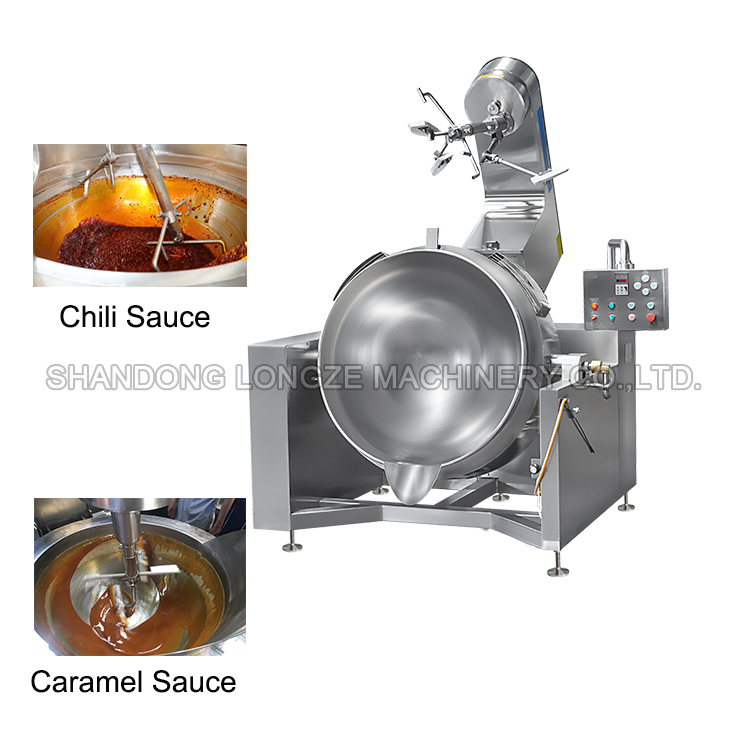 Machine for heating and stirring chili sauce
Longze electromagnetic heating chili sauce stirring cooking mixer machine intelligent features: the entire production process of the electromagnetic cooking mixer is intelligently controlled by German Siemens PLC and fully automatic German Siemens touch screen man-machine interface. Set up the multi-stage frying formula process, according to the properties of different materials, the frying temperature, frying time, frying speed, frying power and other processes can be stored to eliminate the error of manual operation. Greatly improve the product quality, make the quality of each pan fried product uniform and stable, all parameters are conveniently input by the PLC touch screen, and 5 sets of process parameters can be stored in advance, and only the relevant process parameters need to be called when changing the material variety. .

Stir-fry beef sauce machine
Gas planetary cooking mixer machine is widely used in the processing of beef sauce, confectionery, pharmaceuticals, dairy products, wine, pastries, preserves, beverages, cans, lo Congee, etc., is even more favored by processing industries such as stuffing sauce production, meat products cooked food industry, condiment industry and other processing industries. The heating and stirring planetary cooking mixer machine of chili beef sauce is a good way for food processing to improve quality, shorten time, and improve labor conditions. equipment.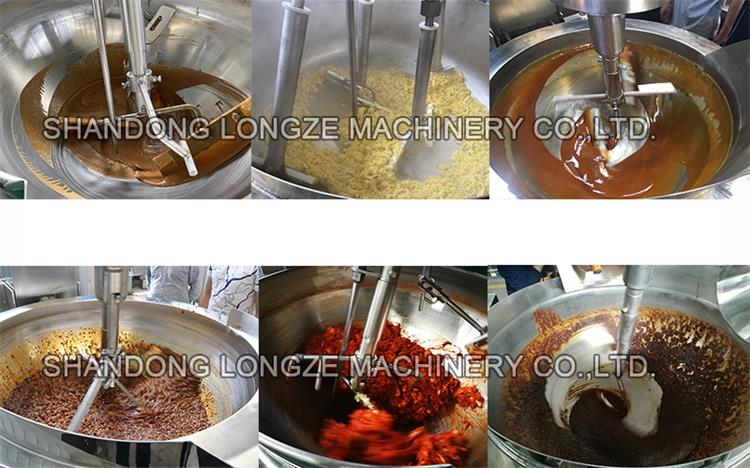 Large commercial beef sauce cooking mixer machine
Gas-fired stir-cooking mixer features gas heating, fast heating, chili sauce boiling machine, heating up to more than 90%, improving the yield;
Safety: Waterproof, oily smoke, and electric leakage protection/Oil cooker can save more than 50% energy; saving money = making money.
Environmental protection: No open flame, oil splashing chili sauce boiling machine market, no, no exhaust gas, stainless steel chili sauce boiling machine machinery, ultra-quiet design (below 45 decibels), optimize the kitchen environment;
Beautiful: All stainless steel fine workmanship and humanized design, durable and easy to clean;

Sauce cooking mixer machine
Welcome new and old customers from all walks of life to come to our factory to inspect and understand, all employees of Longze Machinery are looking forward to your visit.
Longze sauce cooking mixer machine is an automated product. Automatic mixing, automatic speed control, automatic lifting, automatic discharging and other operations can be realized during operation. It can be used in food factories and all walks of life such as stir-fried vegetables, stir-fried sauces, and stir-fried fillings. It is an indispensable heating and stirring equipment for manufacturers pursuing efficiency.
Shandong Longze Machinery Co.,Ltd
Company website:https://www.candyfiremixer.com/
WhatsApp/Wechat:0086 13153609533
E-mail:longzemachinery2@gmail.com
Address:Zhucheng Economic Development Zone, Shandong Province, the first five lines west
If you have any question you can contact me ,i can give you the lowest discount.
Please fill in the form and leave a clear message. We will contact you immediately.