Made in China big capacity automatic industrial popcorn machine/kettle corn prodution Line cheap price
When you want to mass-produce popcorn, a simple popcorn machine has been unable to meet your needs,and then popcorn production machine maybe could help you.This industrial automatic popcorn prodution Line can be placed up to six popcorn machines, high efficiency,One day can produce 1000 kg!
The big capacity automatic industrial popcorn machine entire process pipeline operation, save labor, safety, healthy, convenience. The kettle corn prodution Line can work 24 hours without stop!!!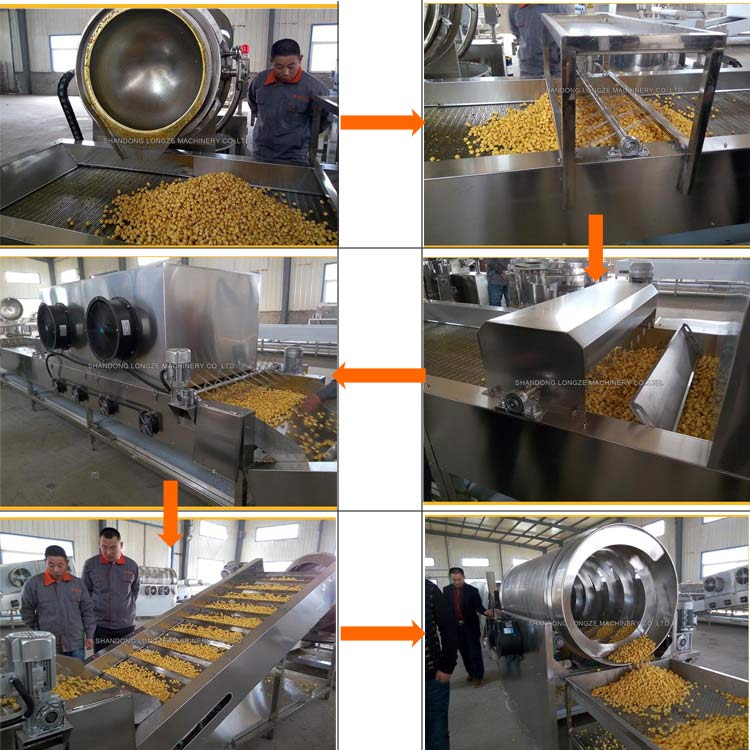 Automatic industrial popcorn machine choose:
Per kettle corn machine only needs a worker.one pot needs 5 minutes and could produce 5kg popcorn.Popcorn can be made into many flavors like caramel,cream,chocolate,fruit,seaweed and so on.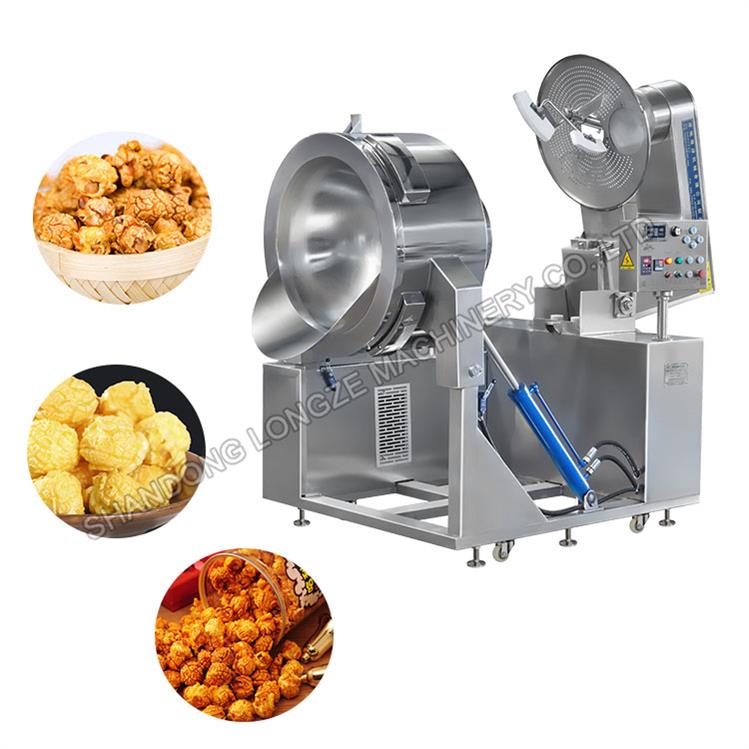 The 60kg per hour big capacity automatic industrial popcorn machine line contains cooling, detaching ,converying ,sifting and other functions.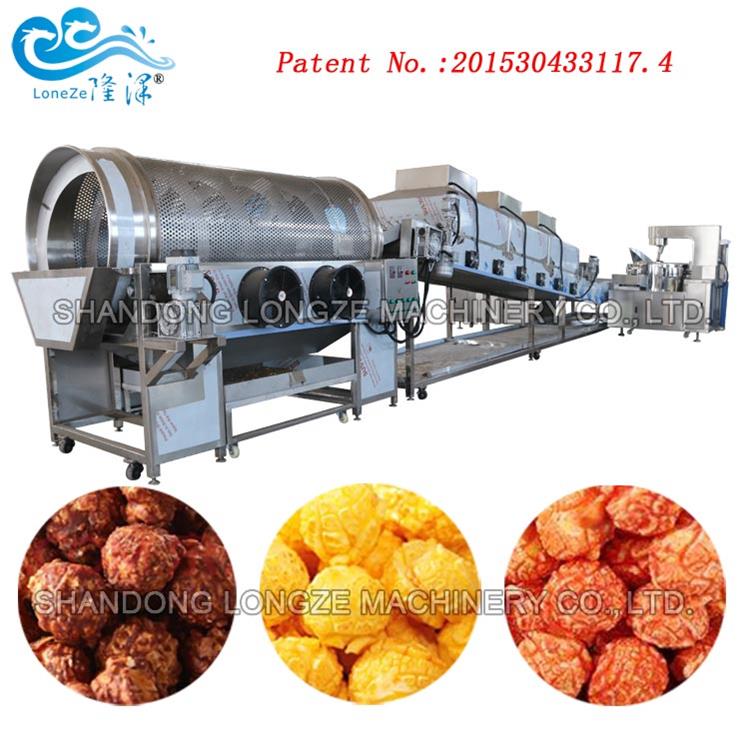 Big Capacity Automatic Industrial Popcorn Prodution Line Operating Procedures:
●Fully automatic machine operation, more hygienic and more efficient!!
●Oil Heating pop,sugar-coating combined into one,making popcorn have bright color and taste more crisp.
●Pipeline five steps, give you a mechanized production workshop, higher yield, greater profits.
●Stainless steel thicker bottom, heat more evenly.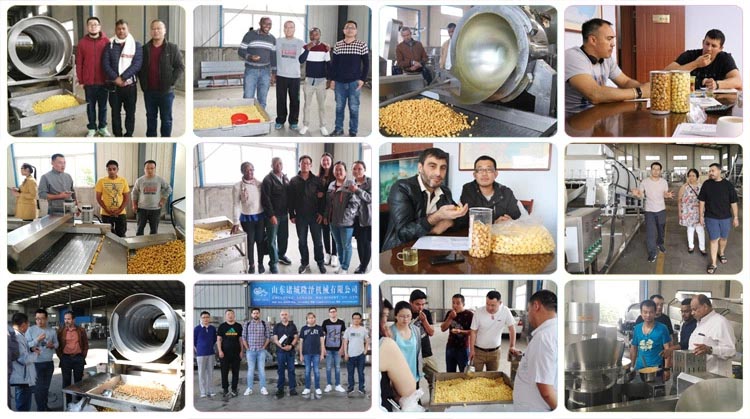 Attending Fairs
Customers Visiting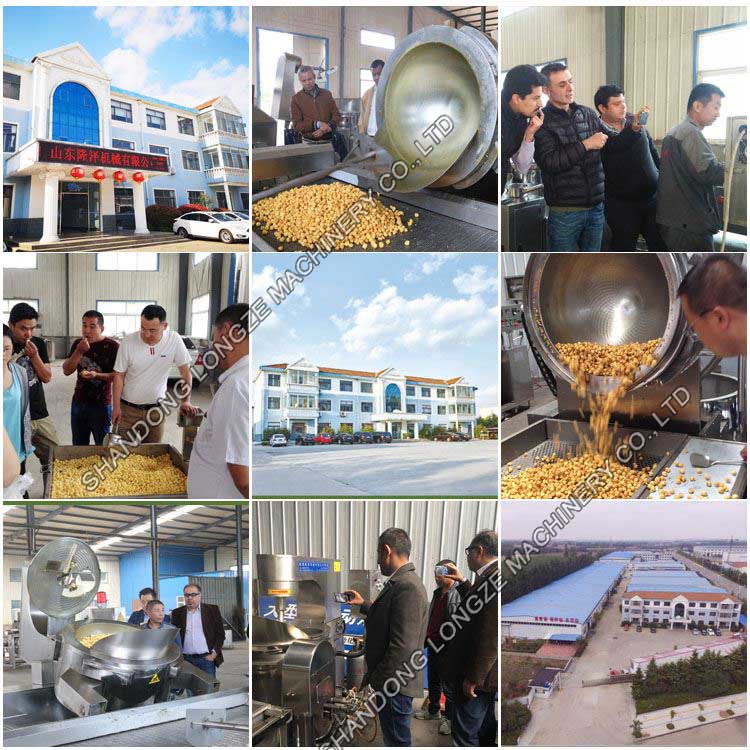 Shandong Longze Machinery is a famous professional designer and manufacturer of food processing machines with many patents and CE, BV, SGS certifications. Our main products include industrial popcorn machine and production line, cooking mixer machine, jacketed kettle, high pressue & vacuum cooking pot, etc., with wide range of applications to pastes, sauces, spices, confectionery, jam, fillings, dairy, eggs, flour, vegetables, meat, caramel, nougat, candied fruits, flavored nuts, popcorns……
Through years of great efforts and innovative measures, Longze has earned many strategic partners and secured its position in the field of Food Machinery. We always stick to the commitment to offering cooking solutions with first-class products and best services.
Contact Us:
Shandong Longze Machinery Co.,Ltd
Company website:https://www.firemixer.com/
WhatsApp/Wechat:+86 13153609533
Company Phone: +86-536-6503337
E-mail:longzemachinery2@gmail.com
Address:Zhucheng Economic Development Zone, Shandong Province, the first five lines west
If you have any question you can contact me ,i can give you the lowest discount.
Please fill in the form and leave a clear message. We will contact you immediately.