Main technical parameters of industrial intelligent popcorn machine:
【Control Method】: Intelligent/Automatic Control
【Pot diameter】: 700-1200mm
【Stirring speed】: 6.7-100r/min
【Stirring form】: Planet
[Arm form]: back flip
【Turning pot form】: Automatic hydraulic pressure
【Heating Form】: Electromagnetic/Gas
[Production capacity]: about 55-75kg/h
【Heating Power】: 20kw
【Dimensions】: 1900*1500*1600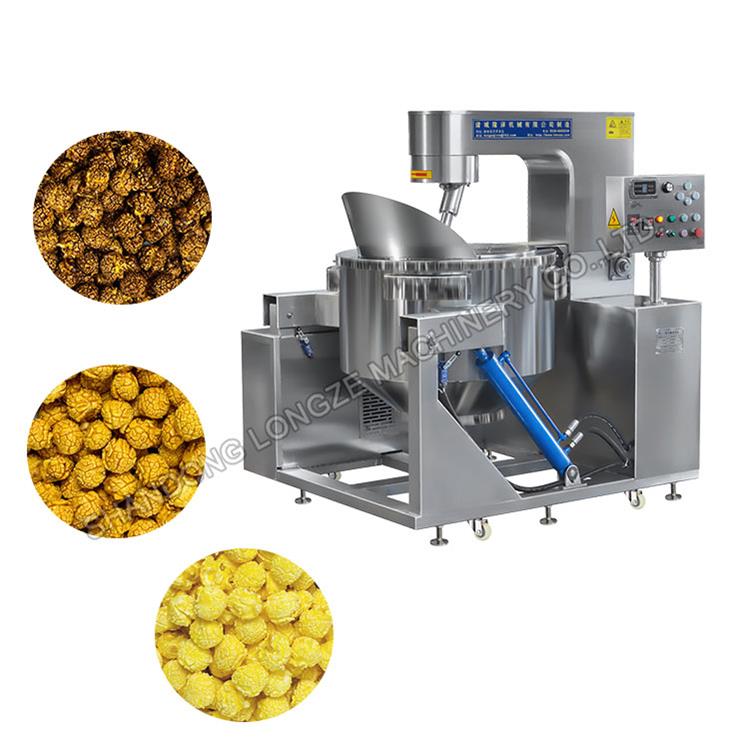 Industrial electromagnetic automatic popcorn machine_advantages of large-capacity intelligent industrial popcorn machine
1. Fully automatic large-scale commercial ball shape popcorn machine adopts variable frequency speed regulation power, which runs more smoothly. It adopts hydraulic back-turning, turning the pot and transporting materials, avoiding disassembly and assembly of the agitator, saving manpower and reducing labor intensity. It is a food processing equipment with excellent performance.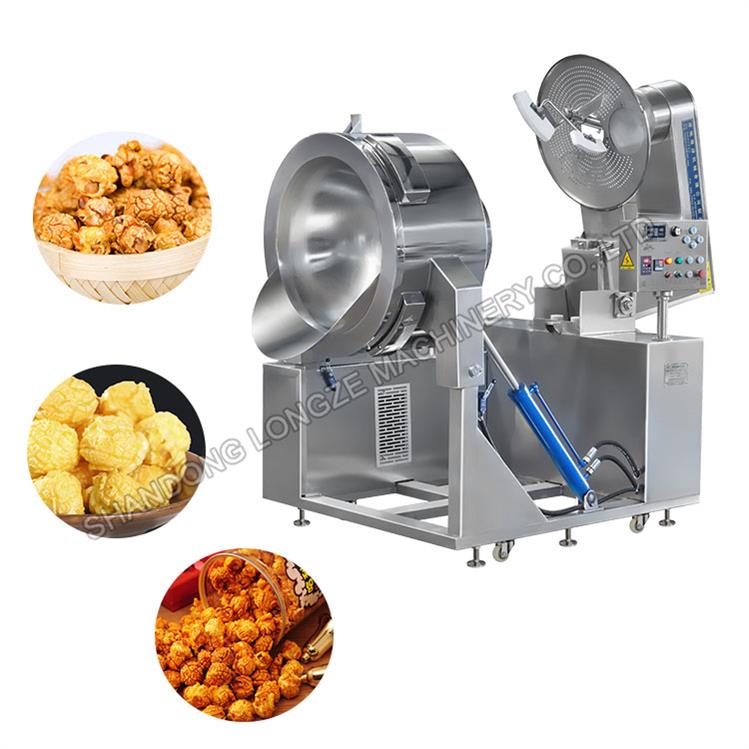 2. The agitator and scraper structure of the fully automatic large-scale commercial ball shape popcorn machine is unique in design, and the planetary agitator (combination of revolution and autobiography) is fully contacted with the pot. The rotation ratio is not an integer rotation ratio, which can ensure that there are no blind spots in the pot, the mixing of the materials is more uniform, the bottom scraping is more thorough, and the pot is not easy to be stuck.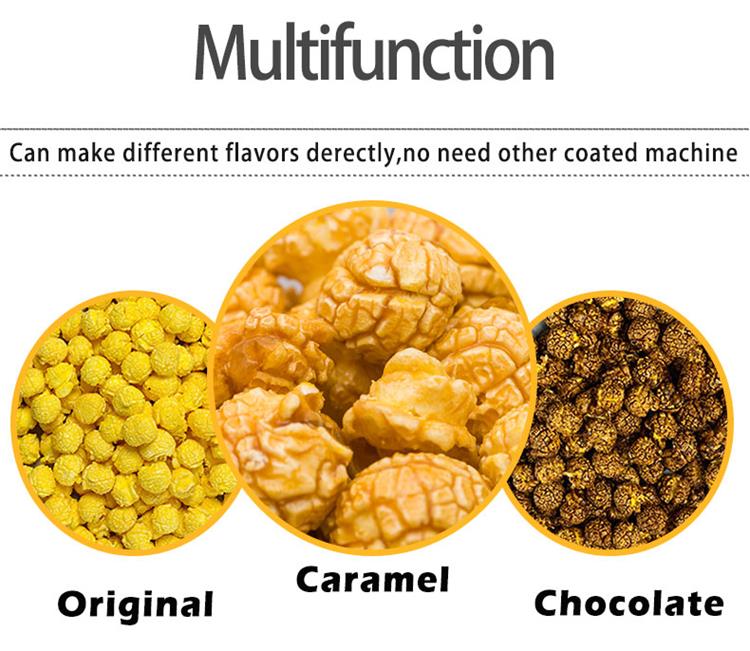 3. Fully automatic big commercial ball shape popcorn machine can popcorn every 4 minutes/pot on average, and industrial caramel popcorn machine produces 5kg of finished popcorn at a time. The advantage of industrial popcorn machine is that it has large capacity and quick production. It is suitable for commercial use, and the pot body can be quickly separated from the heat source after the heating is stopped, to prevent the high temperature residual heat from causing paste.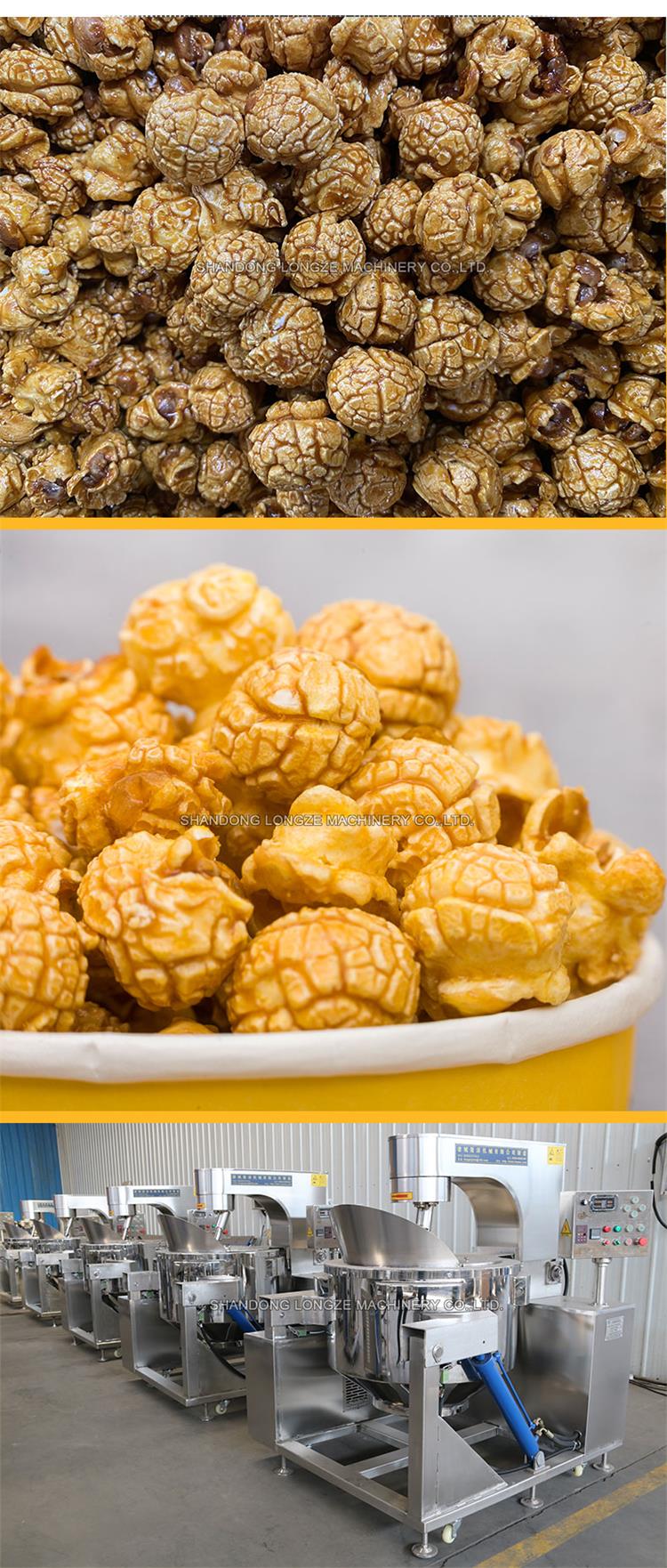 Longze Machinery sells automatic popcorn machines, caramel popcorn machines, commercial popcorn machines, industrial popcorn machines, electromagnetic popcorn machines, gas popcorn machines, large popcorn machines, popcorn production lines, popcorn processing lines, etc. Machine, welcome to contact us.
Contact Us:
Shandong Longze Machinery Co.,Ltd
Company website:https://www.candyfiremixer.com/
WhatsApp/Wechat:+86 13153609533
E-mail:longzemachinery2@gmail.com
Address:Zhucheng Economic Development Zone, Shandong Province, the first five lines west
Contact:Ms. Rena
If you have any question you can contact me ,i can give you the lowest discount.
Please fill in the form and leave a clear message. We will contact you immediately.